Upper West Side, New York
The Upper West Side turned residential in the 1870s when the Ninth Avenue El (elevated railroad) finally made commuting to downtown possible. The Dakota, New York's first luxury apartment building, sprung up in 1884, brownstones and other buildings soon followed suit in the area. Today, the Upper West Side is home to cultural landmarks such as the Lincoln Center and the American Museum of Natural History.
Related Attractions
The Lincoln Center for the Performing Arts is home to opera, theater, and the Museum of American Folk Art.
American Folk Art Museum
The American Folk Art Museum prides itself on offering a collection of works by contemporary self-taught artists. On display are a wide range of art works, with such items as quilts, paintings, and carvings that illustrate the history of American folk art.The museum has a permanent collection and features changing exhibitions.
Children's Museum of Manhattan
The Children's Museum of Manhattan is a participatory museum that opened in 1973 based on the premise that children learn through play. Multimedia exhibits, high-tech hands-on equipment and other exhibits teach children about the workings of the human mind, the five senses and the biology of birds and animals.
AMC Loews Lincoln Square 13
When you are tired from a long day of sightseeing and walking all over New York, you might want to try relaxing in front of a large screen and taking in a movie. The AMC Loews Lincoln Square 13 offers a full on 3D experience.
Hotel des Artistes
The Hotel des Artistes is renown for its past tenants: Norman Rockwell, Isadora Duncan, Noel Coward, Rudolph Valentino among others. The cafe is known for its Howard Chandler Christy murals and cuisine.
Pomander Walk
Pomander Walk is a double row of tiny houses built in 1921 to resemble the London mews of a play at the time. Celebrities who have lived here include Humphrey Bogart and the Gish sisters.
Children's Cultural Center of Native America
The Children's Cultural Center of Native America is designed to educate children about Native cultures. It caters primarily to school groups and other children's groups, with programs to engage children and expose them to different perspective. Kids can take part in a powwow, go inside a teepee, participate in creating art, and gain an understanding of Native issues. The focus is both on past cultures and present day native cultures. There are puppeteers telling stories, demonstrations, games, crafts, and much more.
Map of New York City Attractions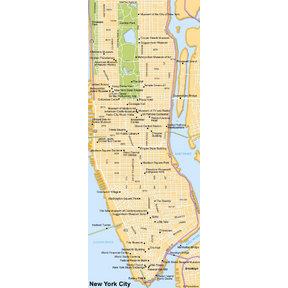 New York City Map
More New York City Attractions