The Cloisters, New York
The Cloisters houses medieval art in a building that itself features medieval cloisters, chapels and halls. Sculptor George Barnard founded the museum in 1914. In 1925, John Rockefeller funded the Metropolitan Museum of Art's 1925 purchase of the collection and donated the site at Fort Tyron Park.
Important Information:
Address:
Fort Tyron Park, New York, NY 10040, United States
Opening hours:
Mar 1 to Oct 31:
9:30am-5:15pm; Closed: Mon
Always closed on:
New Year's Day (Jan 1), Thanksgiving - USA (4th Thursday, Nov), Christmas - Christian (Dec 25)
Useful tips:
Price includes admission to the Metropolitan Museum of Art on the same day.
Disability Access:
Partial facilities for persons with disabilities.
Guides:
Guided tour available as optional extra.
Facilities:
Gift shop, Restaurant or food service
Transit:
190th Street subway
The Cloisters Highlights
Cloisters - Tapestries Collection
The Tapestries are among the Cloisters' most prized collections. Included are four Nine Heroes Tapestries from France, one of two sets that have survived since the fourteenth century. The Hunt of the Unicorn is a series of seven tapestries woven in Brussels around 1500. Overall, the tapestries here are well-preserved and presented.
Cloisters - Gothic Art Collection
The Gothic Art collection includes the Gothic Chapel whose colored windows depict Biblical stories. The Boppard Room chronicles the lives of the saints in late-Gothic stained glass from Germany. The Campin Room features the Annunciation altarpiece and furnishings from a fifteenth-century family.
Cloisters - Romanesque Collection
The Romanesque collection spans masterpieces of art and architecture such as the twelfth-century Cuxa Cloister from the French Pyrenees; the Narbonne Arch; and a twelfth-century fresco of the Virgin and Child. A highlight is the life-size Spanish crucifix dating back to the 1100s.
Cloisters - Treasury
The Treasury includes several Gothic illuminated books of hours dating back to the fourteenth-century; a thirteenth-century English ivory Virgin, a fourteenth-century silver gilt; candlesticks, crucifixes, chalices and even playing cards from the medieval times.
Cloisters - Medieval Gardens
The Medieval Gardens contain over 250 varieties of plants grown in the Middle Ages.
Map - The Cloisters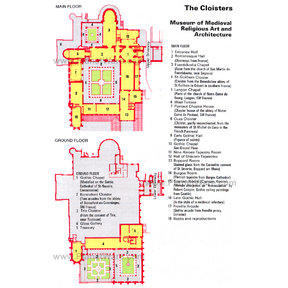 Map - The Cloisters
Map of New York City Attractions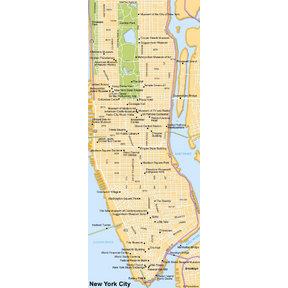 New York City Map
More New York City Attractions