Staten Island, New York
Staten Island is an overlooked borough--overlooked by other New Yorkers in fact. However, the island is filled with lakes, greenery and open spaces, not to mention stunning views of the harbor. Staten Island covers an area of 59 square miles. It is only a 25 minute ferry ride, considered by many to offer the best low cost cruise highlighting the sights of Manhattan. The island is home to nearly 500,000 people of mixed racial backgrounds. Some attractions that are well worth visiting include Little Sri Lanka, an ethnic neighborhood is well known for its culture and interesting dining options. Another attraction worth checking out is Historic Richmond Town, replete with well restored and lovingly preserved colonial buildings.
Related Attractions
Garibaldi-Meucci Museum
The house is a memorial to the lives of Antonio Meucci and Giuseppe Garibaldi. Antonio Meucci, a pioneer inventor, developed the first working telephone in 1857. Garibaldi worked with Meucci in New York City and in 1854, he returned to Italy to lead his volunteer legions to the victories that unified Italy and won him worldwide fame.The museum in the historic house features Garibaldi's bedroom, photographs, telephone models, and Meucci's hand-made furniture and death mask. The museum also houses a gallery that features work by contemporary Italian or Italian-American artists.
Alice Austen House Museum
The Alice Austen House Museum is housed in a small Gothic Revival structure from 1710, and the only surviving example of Gothic Revival architecture on Staten Island. It also provodies great harbor views. This was the home of photographer Alice Austen whose talent was belatedly recognized by Life magazine in 1930.The resource room displays a collection of her photos.Alice Austen House is listed on the National Register of Historic Places and is a designated New York City Landmark.
Snug Harbor Cultural Center
The Snug Harbor opened in 1833 as the first maritime home and hospital for retired seamen. The Cultural Center was founded in 1976 as an arts complex featuring 28 historic buildings, including Greek Revival structures from the mid-1800s. Buildings include the Newhouse Center for Contemporary Art, the Staten Island Children's Museum and the Veterans Memorial Hall. There's also the Staten Island Botanical Garden with its orchid and rose collections.
Jacques Marchais Museum of Tibetan Art
The Jacques Marchais Museum of Tibetan Art features a large collection of Himalayan art set inside a replica of a mountain temple with an authentic altar. The garden has stone sculptures, including life-size Buddhas. Other exhibits within the museum include Jacques Marchais' journals and publications, rare books, memorabilia, historical photos documenting the construction of the Museum, and period displays.
Staten Island Historical Society Museum
Historic Richmond Town is a historic village and museum complex with 15 buildings on 25 acres. Three centuries of daily life, history, and culture are featured through guided tours and daily demonstrations.The Staten Island Historical Society preserves and presents the history and culture of Staten Island.
Staten Island Children's Museum
The Staten Island Children's Museum allows visitors to discover a rainforest canopy or the ocean floor, learn about animals, as well as exhibits on the arts, sciences and humanities through hands-on workshops and live performances.
Staten Island Zoo
Opened in 1936, Staten Island Zoo was primarily focused on reptiles, especially snakes. It still has a large collection and also features North American mammals, an aquatic exhibit and a children's area to feed domestic animals.
Conference House
The historic conference house was the site of the last meeting between the colonists and the British before the two sides went to war.
Historic Richmond Town
Historic Richmond Town is New York's only restored village and outdoor museum consisting of 29 buildings, 14 of which are open to the public.
Seguine House
Seguine House was built in 1838. It is still occupied.
Map of New York City Attractions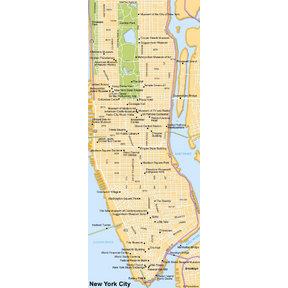 New York City Map
More New York City Attractions