Rockefeller Center, New York
Rockefeller Center is one of New York's main tourist attractions. It is a vast entertainment and shopping complex in the middle of Manhattan, and home to NBC-TV and radio and other media. There is an outdoor skating rink which is incredibly popular in winter. At Christmas a huge tree stands out front. Inside are shops, restaurants (notably the 1930-ish Rainbow Room atop the GE Building), and an observation deck. In front of the International Building is a famous sculpture of Atlas.The Art Deco design was headed by architect Raymond Hood. There are works by 30 artists to be found in and around the complex.The centerpiece is the 70-storey RCA Building, a slender, towering structure that offers views of midtown Manhattan. The original group of buildings is organized along a T-shaped plaza on three city blocks between Fifth and Sixth Avenues.
Important Information:
Address:
45 Rockefeller Plaza, New York, NY 10111, United States
Transit:
47th and 50th Streets subways
Related Attractions
Top of the Rock
If you are looking for a place to see the city skyline, try the Top of the Rock Observation Deck. Located in Rockefeller Center, it was first opened in 1933. The "deck" includes three floors, located on 67th, 69th, and 70th floors. There are both indoor and outdoor viewing space, which are open to the public day and night, offering spectacular views out over New York City. On clear days you can see the city's major landmarks such as the Empire State Building and Central Park. At night it's equally spectacular looking out over the city lights.The Observation deck is open everyday of the week but some sections may be closed occasionally due to weather created safety issues.
Nintendo World Store
Nintendo World Store in New York is 10,000 sq feet of hands-on entertainment. The store carries Nintendo merchandise and allows visitors to check out the latest games! This is the place to see what Nintendo has out and what's coming out.
Map of New York City Attractions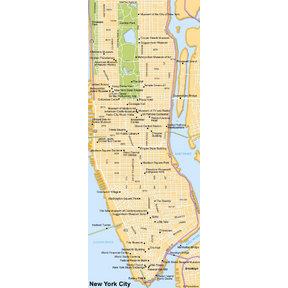 New York City Map
More New York City Attractions