Museum of Modern Art, New York
Museum of Modern Art (or MOMA as it's usually called) contains the world's largest and best collection of modern art. The collection includes architecture, drawings, paintings, photography and prints. Notable works by Picasso, Dali, Magritte, Wyeth, Warhol, Van Gogh, Toulouse-Lautrec, and Monet are on display.
Important Information:
Address:
11 West 53rd Street, New York, NY 10019, United States
Opening hours:
Jun 30 to Sep 1:
10:30am-5:30pm; Fri: 10:30am-8pm; Closed: Tue
Jul 1 to Aug 31:
10:30am-5:30pm; Thu: 10:30am-8:45pm; Fri: 10:30am-8pm
Entrance fee in USD:
Adult $20.00, Senior over 65 $16.00, Students $12.00, Child 16 & under FREE
Useful tips:
Open the first Thursday of each month until 8:45pm. Free admission every Friday from 4pm to 8pm.
Disability Access:
Full facilities for persons with disabilities.
Facilities:
Gift shop, Wheelchair loan or rental
Related Attractions
Museum of Modern Art - Photography
The Photo collection traces the development of this art form, starting from 1840. Aside from changing exhibitions, the collection features permanent works by Steiglitz, Arbus, Atget, Steichen, Man Ray, Cartier-Bresson, Kertesz and more recently Sherman and Nixon.
Museum of Modern Art - Postwar Art
The third floor houses an extensive collection of modern art, ranging from abstract expressionist to Pop art and beyond. Artists represented here include Warhol, Pollock, de Kooning, Bacon, Rothko, Lichenstein, Jasper Johns, Oldenburg and many others.
Museum of Modern Art - Prints & Illustrated Books
The history of printmaking is well-represented, from lithography, etching, and screenprinting to woodcuts. The works of Chagall, Redon, Munch, Klee, Picasso, Johns and many others are on display. A reading room contains catalogs and books about printmaking.
Museum of Modern Art - Architecture & Design
The collection of Architecture & Design exhibits household appliances, stereos, lighting, glassware and even silicon chips. Architecture is displayed through scale models, posters and drawings.
Museum of Modern Art - Film
The Film collection holds 10,000 films and four million stills. Retrospectives are held regularly, such as the films of Charlie Chaplin. The films are well-preserved.
Museum of Modern Art - Pre-War Art
The collection of paintings before World War Two is comprehensive and expansive. Artists include Dali (Persistence of Memory), Cezanne, Matisse, Picasso (with an emphasis on his cubist period), Braque, Mondrian, Miro and many others.
Map - Museum of Modern Art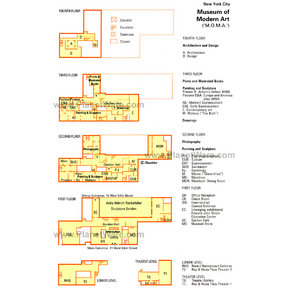 Map - Museum of Modern Art
Map of New York City Attractions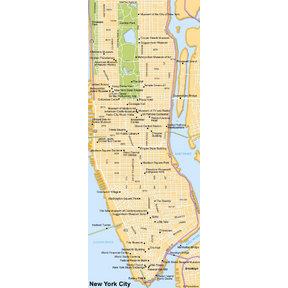 New York City Map
More New York City Attractions