Harlem, New York
Harlem is black America's most famous community. A century ago Harlem was an important area for black business and the arts. Following the Great Depression this part of the city fell upon hard times and became a crime-ridden and decrepit area. Gentrification beginning in the 1990s saw a turn around for Harlem. Crime rates have now dropped significantly and the demographics have shifted as well, with less blacks living in the area. This has also led to less affordable housing and some social problems.
Related Attractions
Hamilton Heights Historic District
The Hamilton Heights Historic District was originally a place for wealthy country estates given the privacy of the area which is set atop a hill. Later, the section known as Sugar Hill, became home to black America's elite: Chief Justice Thurgood Marshall, Count Basey, Duke Ellington, Cab Calloway and many others. The row homes are made of stone, rising three- and four-stories high, built at the turn of the last century in Flemish, Romanesque and Tudor styles.On the National Register it is roughly bounded by St Nicholas and Amsterdam Avenues, W. 145 and W. 140th Streets.
Schomburg Center for Research into Black Culture
The Schomburg Center for Research into Black Culture is dedicated to the research of black and African culture and is one of the foremost institutions in this field. The collection was assembled by a black Puerto Rican-American, Arthur Schomburg, who was told by a teacher that "black history" did not exist. In the twenties, the library was the gathering place of famed writers Langston Hughes, W.E.B. du Bois, Zora Neale Hurston and others.Today the center contains over 10 million individual items. Various exhibitions, primarily from the permanent collection, are held here throughout the year
Cotton Club
Only the nearby Apollo Theater can rival The Cotton Club for black musical history. The establishment began as Club De Lux and was changed to the current name in 1923. As Harlem's most famous jazz club in the twenties and thirties, featured entertainers included Duke Ellington, Lena Horne, Josephine Baker and many others.Today the Cotton Club can be a fun place to have dinner and hear some jazz. It's a fairly small place and if you are going during a busy time of year, you may want to arrive early.
Studio Museum In Harlem
The Studio Museum In Harlem is an impressive five-storey museum devoted to art by African-Americans, from New York and across the country. The photo archives offer a rich history of Harlem. The programs offered here have also been the starting base for many successful careers.The museum has an impressive permanent collection, featuring hundreds of artists and spanning two centuries. There are regularly changing exhibitions showcasing the works of well known artists and inspiring new talent.
Apollo Theater
The Apollo Theater began as a whites-only opera house in 1914. In 1934, white entrepreneur, Frank Schiffman, took over the venue and opened it to all races.The Apollo has been a premier venue for black America's showcase of music. Legends such as Billie Holiday, Bessie Smith, Duke Ellington, and Dinah Washington have graced its stage. James Brown's 1962 concert here is a classic record.The building is a historic landmark.
Mount Morris Historical District
The Mount Morris Historical District was once a neighborhood occupied by German Jews in late-nineteenth century Victorian townhouses. Sadly, the area has deteriorated. Its saving graces are churches such as St. Martin's Episcopal and Mt. Oliver Baptist (201 Lenox Avenue), plus Temple Israel.The section on the National Register is roughly bounded by Adam Clayton Powell, Jr. Boulevard and Mt. Morris Park W. from W. 118th to W. 124th Streets.
Abyssinian Baptist Church
The Abyssinian Baptist Church is New York's oldest black church. It was founded in 1808 and became famous through its pastor, Adam Clayton Powell, a congressman and civil rights leader. Under him this became the most powerful black church in the country.
Harlem YMCA
The Harlem YMCA was the setting of the stage debuts of Paul Robeson and many others in the twenties. W.E.B. Du Bois' Krigga Players organized shows in the basement before heading on to Broadway reviews. The Y was also the first Harlem home to writers such as Ralph Ellison.
Aunt Len's Doll and Toy Museum (closed)
ATTRACTION IS CLOSED.Aunt Len's Doll and Toy Museum contains over 5,000 dolls and toys belonging to Mrs. Lennon H. Hoyte, a retired schoolteacher. To enter, you must arrange a visit with Mrs. Hoyte.
City College of the City University of New York
The City College of the City University of New York is set atop a hill adjoining Hamilton Heights. The campus features an impressive Gothic quadrangle built in 1903 and 1907.
Harlem Market
Though not an official attraction, the market opposite Sylvia's soul food restaurant is noted for its food, African clothing, jewelry and art. The market extends for a few blocks in both directions.
Marcus Garvey Park
Marcus Garvey Park is dedicated to the black nationalist leader. The park sits atop a hilly, rocky two-block square. There is a fire watchtower (the city's last) with an observation deck.
St Nicholas Historic District
The St. Nicholas Historic District is known as the King Model Row Houses built in 1891. Successful blacks lived here in the twenties and thirties including musicians W.C. Handy and Eubie Blake.
Sylvia's
Sylvia's is Harlem's legendary soul food restaurant, serving southern fried chicken, saucy ribs, black-eyed peas and candied yams. Sunday brunch is served with the music of gospel singers. It was first established in 1962.
African American Wax Museum
The African American Wax Museum features statues of black American historical figures such as Martin Luther King and Malcolm X as well as paintings and sculptures.
Map of New York City Attractions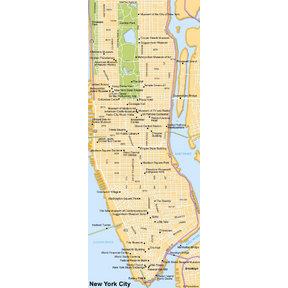 New York City Map
More New York City Attractions