Empire State Building, New York
Along with the Statue of Liberty, The Empire State Building is New York's most famous landmark. Its 86th floor observatory remains a hugely popular vantage point to view Manhattan.The 381 m tall, 102-storey building was the tallest in the world until the 1 World Trade Center tower rose higher 41 years later. Topped with a mooring mast (image) for airships, the Empire State Building became immediately a landmark and a symbol for NYC when it opened in 1931.The building is clad in Indiana limestone and granite, with the mullions lined in shiny aluminum. The spandrels are sandblasted to blend their tone to that of the windows, visually creating the vertical striping on the facade. The high entrance lobby is lined in marble imported from Europe and sports an imposing silhouette image of the building itself.
Empire State Building Map
Important Information:
Address:
350 Fifth Avenue, New York, NY 10118, United States
Entrance fee in USD:
Adult $18.45, Senior over 62 $16.61, Child 11 & under $12.92, Military discount FREE, Child 5 & under FREE
Useful tips:
Last elevators go up at 1:15am.
Facilities:
Gift shop, Restaurant or food service
Empire State Building Highlights
Empire State Building Observation Deck
There are actually two observatories atop the Empire State Building:86th Floor Observatory (1,050 feet or 320 meters): is reached by high speed, automatic elevators, has both a glass-enclosed area, which is heated in winter and cooled in summer, and spacious outdoor promenades on all four sides of the Building.102nd Floor Observatory: Standing on the 102nd floor - 1,250 feet (381 meters) above the bustling streets below. On clear days visitors can see the surrounding countryside for distances up to 80 miles, looking into the neighboring states of New Jersey, Pennsylvania, Connecticut and Massachusetts, as well as New York.
New York Skyride
The New York Skyride, located on the 2nd floor of the Empire State Building, takes visitors on a simulated whirl wind tour of nearly three dozen famous landmarks in New York. The ride features seats which are synched to the imagery on the screen, providing a realistic feel of flight through New York. Actor Kevin Bacon narrates the 30-minute adventure. The Skyride has received mixed reviews.
More Empire State Building Pictures
Map of New York City Attractions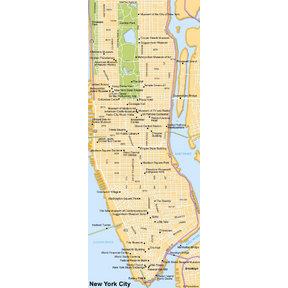 New York City Map
More New York City Attractions