Chelsea Historic District, New York
Chelsea started as farmland in 1750, graduated to a suburb by the 1830s and hit its peak 40 years later as a center for theater, fashion and music. By the twentieth century, Chelsea began to wane, becoming a warehouse district. Today, however, Chelsea is regaining its lost luster as the middle class has rediscovered the area.
Related Attractions
Long New York's most famous landmark, the Empire State Building was for a time the tallest building in the world. There is an observation deck on the 86th floor with incredible views over the city.
Chelsea Hotel
The Hotel Chelsea was New York's first co-operative apartment complex. No other hotel in New York, perhaps the world, can claim such artistic and literary heritage as The Chelsea Hotel. Tennessee Williams, Arthur C. Clarke, Jimi Hendrix, Mark Twain, Jack Kerouac, Brendan Behan, Arthur Miller and countless other artists have stayed here for short or long periods. Andy Warhol shot and named a film after the hotel. Leonard Cohen immortalized his amorous encounter with Janis Joplin here in song. Most notoriously, Sex Pistol Sid Vicious killed his girlfriend, Nancy Spungen, here in 1978. Seedy, mysterious and haunted, the Chelsea still attracts artists, bohemian activity , and increasingly more tourists to this day.The lobby is decorated with art by tenants, past and present.
Center for Book Arts
The Center for Book Arts was established to preserve the book making craft. In the age of technology, with books available in digital form, the tradition of book making and the history is often overlooked. It is refreshing to encounter a place where books themselves are seen as an art piece and where the craft is still available to learn. The center offers lectures, classes, and workshops on such topics as bookbinding, letterpress printing, paper marbling, and typography.The Center for Book Arts gallery has regularly changing exhibits. For book lovers this place is a must see.
Rubin Museum of Art
The Rubin Museum of Art is a unique museum which is dedicated to the art of the Himalayas. It is a great place for anyone who is planning a trip to, or been to the Himalayas, or those with a general interest in the region. The museum houses a collection of paintings, sculptures, and textiles with regularly changing exhibitions. Most of the periods reflected are from the 12th century onward. Exhibitions vary greatly with old, new, and quirky themes.
Madison Square Garden
Madison Square Garden is home to the New York Knicks basketball team and the New York Rangers hockey team, and countless other sporting events, rock concerts, circus shows, antique shows and more. The building seats 20,000 people and is centrally located, right atop Penn Station.It is one of America's most famous arenas, where up and coming musicians dream of performing one day.
Dia Center for the Arts (closed)
ATTRACTION IS CLOSED AS IT LOOKS TO RELOCATE.Collecting and exhibiting a variety of pieces from a diverse group of artists the Dia Center for the Arts houses long term exhibitions. The Center also publishes books as well as creating art education programs.
Jacob K. Javits Convention Center
The Jacob K. Javits Convention Center is a convention center that faces the Hudson River. An impressive example of modern architecture, this glass structure was designed by I.M. Pei. The 15-storey building is often used for fashion and film shoots.
James A. Farley Building (formerly General Post Office)
The General Post Office was constructed in 1913 and is a fine example of Beaux Arts architecture. Occupying two whole city blocks, the post office has a broad staircase and a facade adorned with 20 Corinthian columns. Look for the famous mail-carrier's inscription etched along the top.
Museum of American Piano
The Museum of the American Piano opened to the public in 1984. The museum houses early pianos of historical, technical and musical significance, and also works to restore them. It offers traditional methods of working on and maintaining pianos including woodworking, wood finishing, tuning, repairing and restoration.
UCB Theatre
The Upright Citizens Brigade arrived in New York in 1997 and offers improv, sketch, and stand-up comedy every day of the week. Opened by The Upright Citizens Brigade (Matt Besser, Amy Poehler, Ian Roberts, and Matt Walsh), it has provided a performance home for hundreds of comedians.
Empire Diner (closed)
(CLOSED)The Empire Diner is a classic 1929 Art Deco American diner. It has a stainless steel and elegant black and chrome trim. It was Bette Davis' favorite diner, and remains a trendy place to eat.
General Theological Seminary
The General Theological Seminary contains the world's largest collection of Latin Bibles. It was built in 1817 and has been training students to become priests ever since.
Herald Square
Herald Square was named after the newspaper, The New York Herald. Stanford White designed the Herald building which used to stand in the middle of the infamous Tenderloin district at the turn of the century.
Macy's
Macy's is purportedly the "world's largest department store", or at least the world's most famous one. Occupying an entire block, Macy's first opened as a small store in 1857 by Rowland H. Macy and grew from there.
Map of New York City Attractions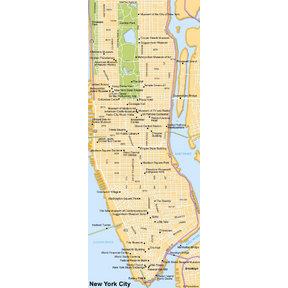 New York City Map
More New York City Attractions