Battery Park and the Statue of Liberty, New York
Battery Park sits on the southern tip on Manhattan and affords great views of New York Harbor and the Statue of Liberty. Historically it was the site of a fort established by the first Dutch settlers in 1626. The fort later became known as Castle Garden and was used as a venue for various entertainment functions. Battery Park was also where many early newcomers to America first arrived, prior to Ellis Island.Today, this is where visitors can catch the ferry to the Statue of Liberty and Ellis Island. It is also a good starting point for walking tours of the city. In the summer the park is a lovely area to walk along the waterfront, with gardens, paths, and various monuments.
Battery Park and the Statue of Liberty Map
Related Attractions
Statue of Liberty
The Statue of Liberty was France's gift to America. It was built in 1886 and remains a famous world symbol of freedom and one of the greatest American icons. It is the world's largest statue and stands just less than 152 feet tall (from the base to the torch) and weighs an approximate 450,000 pounds. The statue offers a fine view of the New York Harbor and lower Manhattan.Visitors to the Statue of Liberty should be aware that it is actually located on Liberty Island and a short boat ride is required to get to the statue. There are also fine views to the statue from various points, particularly Battery Park.
Ellis Island Immigration Museum
Ellis Island served as America's immigration depot from 1892 to 1954. Nearly 17 million people passed through its gates. After $156 million of restoration, it is now a national museum.The Ellis Island Immigration Museum offers exhibits and programs about the history of Ellis Island and the immigration process. Immigrants were processed in the "Main Building" at Ellis Island. Today, the Main Building is a three floor museum, containing a variety of self-guided permanent exhibits. Treasures From Home contains a display of personal objects and stories of arriving immigrants between 1892 and 1954. The Peopling of America offers a look at immigration trends using statistics, time lines and graphs.
Battery Park City
The new Battery Park City is 92 acres of shops, restaurants and events on the Hudson River.
Staten Island Ferry
Since 1810, the Staten Island Ferry has been carrying island commuters to and from Manhattan. While the ferry serves an important function for commuters, it also offers visitors a fine view of the harbor, the Statue of Liberty and Ellis Island, not to mention Lower Manhattan's skyline. As a sightseer, visitors may want to consider taking the trip simply to enjoy the sights.The ferry covers 5 miles during the 25 minute trip and service is free for foot passengers. The fleet carries approximately 60,000 passengers a day.
More Battery Park and the Statue of Liberty Pictures
Map of New York City Attractions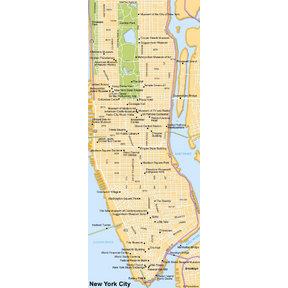 New York City Map
More New York City Attractions