Audubon Terrace Historic District, New York
Audubon Terrace is a complex of Classical Revival buildings by Charles P. Huntington built in 1908. It was named after naturalist John James Audubon. The central plaza contains statues by Huntington's wife, Anna. The terrace holds several museums, most notably the American Numismatic Society.
Related Attractions
American Academy of Arts and Letters
The American Academy of Arts and Letters is an organization founded to foster, assist, and sustain an interest in literature, music, and the fine arts. Its 250 members - artists, architects, writers, and composers - are elected for life and pay no dues. The honor of election is considered the highest form of recognition of artistic merit in the country. The American Academy of Arts and Letters is only open to the public in the Spring for exhibitions of art and manuscripts. Check their calendar to see what is coming.
American Numismatic Society Museum
The American Numismatic Society is the country's premier museum of coinage and medals. It is the leading research library and collection in the United States. Visitors need to make an appointment to use the research facility. The society's main exhibition, where visitors should go for general viewing, is located at the Federal Reserve Bank of New York at 33 Liberty Street. Here you can see various currencies and learn about how money is used in this form to carry wealth.The society has a number of viewing areas, including one at its own headquarters.
Hispanic Society of America Museum
The Museum of the Hispanic Society of America is based on the collection of Archer M. Huntington which includes works by Goya, El Greco and Velazquez. Visitors will experience the arts and cultures of Spain, Portugal, and Latin America.One of the best museums of its kind outside of Europe, the museum displays paintings, decorative arts, sculpture, textiles, and archeological finds. It also contains a comprehensive reference library related to the associated cultures.The Hispanic Society of America is housed in an impressive Beaux-Arts building.
Map of New York City Attractions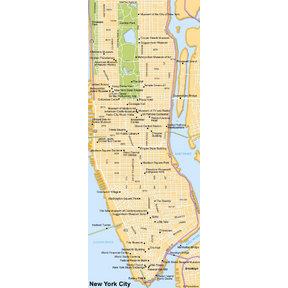 New York City Map
More New York City Attractions