Garden District, New Orleans
The Garden District, a prosperous residential area, lies south-west of the Pontchartrain Expressway. It is best to travel here on the St Charles Streetcar, a survivor of New Orleans' tram system, getting out at Charles Street/First Avenue (Stop 14). On First Street, Camp Street and Prytania Street there are many large elegant, 19th c. houses with extensive gardens.The area can be easily explored on a walking tour. Some companies offer guided tours, which can be a good way to learn the history and see the sights. The area has lovely mansions, and lots of trees, flowers, and gardens. Some famous celebrities have homes in this area. Most visitors come to enjoy the tranquil environment and see the houses, but there are also boutiques and coffee shops for when you are ready for a rest.
Related Attractions
Audubon Park
In the south-west of the Garden District is Audubon Park, so named in 1886. It was established on the grounds of what had been the site of the World's Industrial and Cotton Centennial Exposition of 1884. Within the park are fine stands of oaks, the Audubon Zoo, hothouses, the Audubon Golf Club, a number of small lakes, and much open green space. Also within the park are a short jogging trail, tennis courts, soccer fields, picnic areas, and children's play areas. The Audubon Clubhouse Café offers a nice environment where visitors can come to relax after a walk through the park.North of the park are the Tudor-style buildings of the Roman Catholic Loyola University, founded in 1912. Beyond it is the campus of Tulane University.
Audubon Zoological Gardens
The Audubon Zoological Gardens features more than 1,500 animals in realistic environments such as the Asian Domain, the African Savannah, the Australian Outback and the Louisiana Swamp. Many of the buildings at the Audubon Zoo were built in the early 1900s, providing a unique historic atmosphere. There are also many lovely sculptures and monuments throughout the zoo.The Audubon Dinosaur Adventure has upgraded with new additions. Dinosaur replicas bring to life the age of the dinosaurs for kids and families to experience. The Cool Zoo is another popular children's area, with a seasonal splash park, open during the summer months. The splash zones are divided up, with separate areas for tots and older children.For those planning on visiting more than one venue, such as the IMAX, the Aquarium, the Zoo, or the Insectarium, be sure to ask about special packages that include multiple admissions.
More Garden District Pictures

Map - Garden District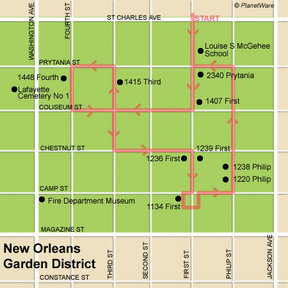 Map - New Orleans Garden District
Map of New Orleans Attractions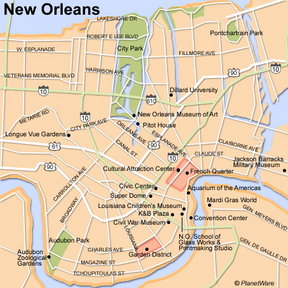 New Orleans Map
More New Orleans Attractions
Popular Destinations Nearby