Veere Tourist Attractions
The picturesque little town of Veere, a favorite haunt of artists, lies on the northeast coast of Walcheren, 7km/4.5mi north of Middelburg. In the medieval period Veere, which was surrounded by walls in 1358, was an important trading town and fishing port. After the marriage of the lord of Veere, Wolfert van Borssele, with the daughter of King James I of Scotland in 1551 the Scottish staple at Veere became an important outlet for the sale of Scottish wool. The town's prosperity was brought to an end by the French occupation in 1799. In 1958 the fishing harbor was cut off from the sea by the construction of the Veerse Gat dam, and Veere is now only a sailing center and holiday resort.
Schotse Huizen
Veere has preserved a number of handsome old burghers' houses. The most interesting of these are the Schotse Huizen, which contain the records of the Scottish wool merchants who lived in Veere as well as a collection of local antiquities.
Address: Kaai 25-27, Veere, Zeeland 4351 AA, Netherlands
Town Hall
The Veere Town Hall (Stadhuis; 1470) is the finest Town Hall in Brabantine Late Gothic style after that of Middelburg. The fine statuettes of members of the Borssele family on the facade are reproductions (1934) of the originals by Michiel Ywijnszoon (16th C.), which are now in the Schotse Huizen. The belfry at the top of the tower is also 16th century. The interior decoration of the Town Hall dates mostly from 1699. There is a small museum in the Vierschaar (courtroom), the most notable exhibit in which is a silver-gilt goblet presented to the town in 1546 by Maximilian of Burgundy.
Round Trip
From Veere take the road which runs northwest, crosses the Veerse Gat dam and continues over the Oosterschelde Dam to the Delta Expo museum on the artificial island of Neeltje Jans. The route then continues to the island of Schouwen-Duiveland and via Serooskerke to Zierikzee, from which the Zeelandbrug (a toll bridge, 5km/3mi long, borne on 48 double piers; completed 1966) returns to Noord-Beveland, and so back to Veere.
Church of Our Lady
The massive Church of Our Lady (15th-16th C.) seems out of proportion with the little town of Veere. From the tower there are fine views of the surrounding area. Beside the church is a handsome fountain house of 1551.
Campveer Tower
The only surviving part of Veere's fortifications of 1550 is the Campveerse Toren (Campveer Tower; restored 1950), long a place of refuge for the population and now a restaurant.
Silkmuseum
At the Silkmuseum in Meliskerke visitors can watch the whole process from silkworm to the woven finished product.
Address: Dorpsstraat 3, Meliskerke, Zeeland 4365 AL, Netherlands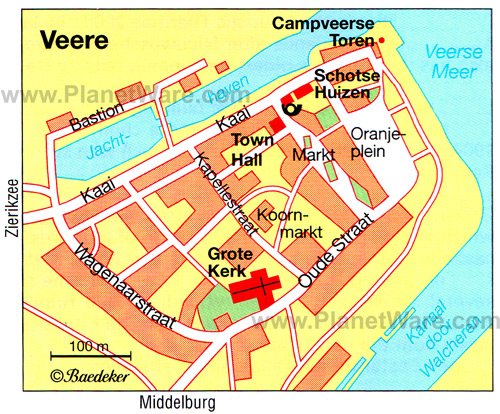 Veere Map - Attractions
Popular Pages