Surroundings, The Hague
Several notable attractions lie beyond the borders of The Hague city limits.
Related Attractions
Kasteel Duivenvoorde
Northeast of The Hague by way of Voorburg and Leidschendam we come to Voorschooten, a few kilometers beyond which a road (3km/2mi) goes off to Kasteel Duivenvoorde, a medieval castle which was restored in 1631 by Johan van Wassenaer. The original decoration and furnishings have been preserved (family portraits, Delft ware, Chinese and European porcelain, silver). The English-style park is open throughout the year.
Wassenaar, Netherlands
Beyond Kasteel Duivenvoorde lies Den Deijl, a suburb of Wassenaar (1km/.75mile off the road to the left). This is an old-established residential district in modern Dutch style, surrounded by parks and woodland, with a Fire Service Museum (open once a week) and the popular leisure park and camping site of Duinrell.
Clingendael
This Versailles-type garden was a major influence on other gardens of the 17th century, inspiring the garden of Het Loo.A Japanese garden is the focal point of the garden with its tea houses, bridges and lanterns.
Japanese Garden
The Japanese Garden in Clingendael Park in Wassenaar is best seen in the spring. The garden is a national historical monument only open at select times of the year.
Duinrell
Featuring such attractions as the "Splash", luge runs and a 3-D cinema, the Duinrell Leisure Park, a family theme park, is the largest of its kind in Europe.
Golfclub Rozenstein
Golfclub Rozenstein at Wassenaar is located in a beautiful wooded area with a south course and a north course. It was established in 1984.
Kijkduin
West of The Hague, on the North Sea coast, extends the seaside resort of Kijkduin, with excellent bathing facilities.The area also offers golfing, shopping, dining, and is particularly popular during the summer months.
Hofwijck, Voorburg, Netherlands
Hofwijck is a 17th century summer home of the Huygens family, which has remained for the most part as it was when Constantijn Huygens lived here. A series of memorabilia is found throughout the house and one room, commemorating Constantijn Huygens himself, holds what is thought to be the first pendulum clock.
Huygens Museum
In Voorburg the Huygens Museum is housed in the home of the poet and statesman Constantijn Huygens (1596-1687). The house was built in 1639 to the design of Jacob van Campen, Pieter Post and Huygens himself. The museum contains mementos and other material on the life and work of Huygens and his son Christiaan, the scientist and inventor of the pendulum clock.
Surroundings Pictures
Map of The Hague Attractions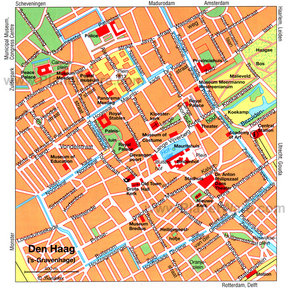 The Hague Map
More The Hague Attractions
Popular Destinations Nearby