Sneek Tourist Attractions
Sneek, the second largest town in Friesland, lies in the Frisian lake district. It is the main center of an agricultural area, with colleges of agriculture, an agricultural advisory office and a teachers' training college, as well as one of the largest yacht harbors in the country. In summer it is a popular center for water sports on the Frisian lakes, including the Sneeker Meer (4km/2.5mi from the town).In addition to the tourist trade, the town's economy depends on a varied range of industry - foodstuffs, textiles, papermaking, chemicals, metalworking. Sneek is also an important market center for dairy produce.
Sneek Week
Sneek Week, one of the most important sailing regattas in the Netherlands, begins on the first weekend in August.
Town Hall
In Marktstraat the former Town Hall (Stadhuis), a notable 15th century building, has a magnificent Roccoco facade (1760) - a rare feature in Friesland. Two fine rooms in the interior are the Roccoco Council Chamber, its walls faced with leather, and the Schutterskamer (Marksmen's Room), with mementos of the old marksmen's guild.
Grote Kerk or Martinikerk
A little way south of the Town Hall, in Kerkstraat, is the Gothic Grote Kerk or Martinikerk (15th C.), with a beautiful two-story sacristy (16th C.; interior remodeled in 18th C.).
Geeuw
The continuation of Kerkstraat, the Oude Koemarkt, runs south to the gracht called the Geeuw. Off to the right is the Waterpoort (Water Gate) of 1613, the only remnant of the town's fortifications, which were demolished in the 18th century. This picturesque old gate bridging a canal consists of two octagonal towers joined by a kind of loggia.
Museum of Shipping and Antiquities
The Frisian Museum of Shipping and Antiquities (Fries Scheepvaart Museum en Oudheidkamer) has a collection of ship models, navigational instruments and pictures of seafaring life.
Address: Kleinzand 14, Sneek, Friesland 8601 BH, Netherlands
Surroundings
Sloten, Netherlands
Sloten lies to the south of Sneek in the Gaasterland area, near the Slotermeer. The smallest of the 11 Frisian towns, it is a picturesque little place with its grachten, its town walls and its handsome old houses, such as the Town Hall (Stadhuis) of 1759. The fortifications were built by Menno van Coehoorn in the 17th century. Between the two water gates, the Sneekerpoort or Woudsenderpoort to the north and the Lemsterpoort to the south, flows the gracht known as Het Diep.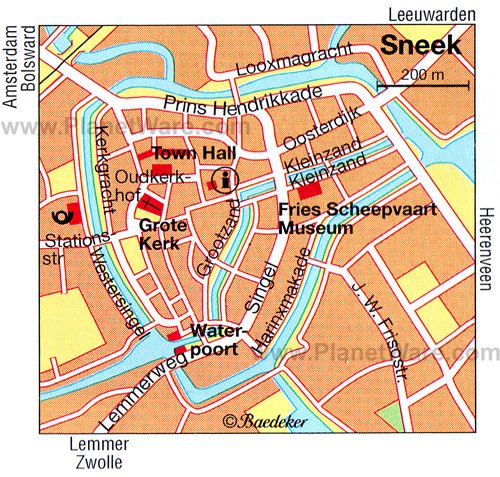 Sneek Map - Attractions
Popular Pages