Surroundings, Gouda
Related Attractions
Reeuwijk Lakes
North of Gouda lie the Reeuwijk Lakes (Reeuwijkse Plassen), formed as a result of peat cutting, which are now a popular water sports area with several hotels and restaurants.
Boskoop, Netherlands
Northwest of Gouda on the old road to Leiden is the little town of Boskoop, on the river Gouwe. It is situated in an important agricultural and fruit-growing area - Boskoop is the name of a variety of hard-skinned apple which keeps exceptionally well - where roses, rhododendrons, azaleas, clematis and shrubs of the yew family are grown in large nurseries. The best time to visit the area is when the flowers are in full bloom.Boskoop is also noted for its historic water tower, vertical lift bridge and an extensive rose garden near the traion station.
Oudewater, Netherlands
East of Gouda on N 207 is the little town of Oudewater, on the IJssel, birthplace of the painter Gerard David (ca. 1460- 1523). The town has numbers of handsome gabled houses dating from the golden age of Dutch architecture (1600-20), particularly in the Markt, on the harbor and in Leeuwerikstraat and Wijkstraat. This historic little town with its narrow grachten gains its living from agriculture, some small-scale industry and the services sector - though some 60 per cent of the working population work outside the town.

Witches' Weigh House
Oudewater's best-known sight is the Heksenwaag ("Witches' Weigh House"). The scales in this weigh house (1595) were used for the weighing of women alleged to be witches. In practice most of them were cleared of the allegation, for even in those days few Dutch women weighed less than 50kg/110lb, and if a supposed witch weighed more than that she could not be a witch, since the broomstick would have broken under her weight. Visitors can have themselves weighed, and are then given a certificate of their weight.
Town Hall
The Renaissance-style Town Hall (Stadhuis) of 1588 was destroyed by fire in 1968 but has since been fully restored. It contains a painting of 1575 depicting the atrocities committed by the Spaniards (not open to the public).
Map of Gouda Attractions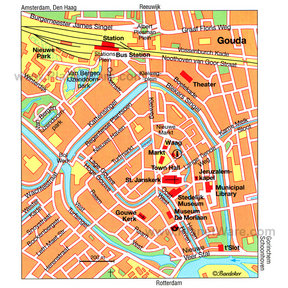 Gouda Map
More Gouda Attractions
Popular Destinations Nearby