Surroundings, Breda
Related Attractions
Ginneken, Netherlands
3km/2mi south of Breda is Ginneken, a large village which is now incorporated in the town, with the handsome moated castle of Bouvigne (17th C.), which formed part of the defenses of Breda. In 1614 the castle was purchased by William I's son Prince Frederick Henry, who made it his headquarters during the siege of Breda in 1637. In 1930 there was a plan to demolish the castle and build bungalows on the site, but the plan was frustrated when the municipality bought the castle and restored it. Since 1977 it has been occupied by the Hoogheemraadschap (Water Cooperative) of Western Brabant.
Mastbos
Southwest of Bouvigne castle extends the Mastbos, a beautiful wooded park of over 500 hectares/1,250 acres.
Chaam, Netherlands
7km/4.5mi southeast of Breda is the village of Chaam, famed for the Acht van Chaam, a cycle race which takes place shortly after the Tour de France. The village's main sources of income are agriculture and tourism, with special interest for backpackers.
Baarle-Nassau, Netherlands
9km/6mi beyond Chaam in the Breda region is Baarle-Nassau, with its sister village of Baarle-Hertog or Baerle-Duc, a Belgian enclave in Dutch territory which has been separated from Baarle-Nassau since the 15th century. Altogether there are 21 Belgian enclaves in the Netherlands and eight Dutch enclaves in Belgium. In some cases the boundary runs through the middle of a house, and the national affiliation of the house is then determined by the position of the front door.Baarle-Nassau has many Belgian and Dutch shops including specialty chocolates.
Map of Breda Attractions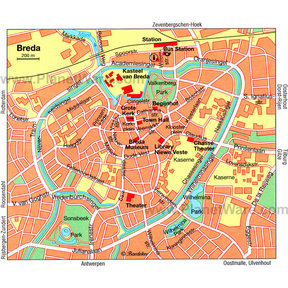 Breda Map
Popular Destinations Nearby