Surroundings, Banepa
The Banepa Valley is home to some interesting temples and villages.
Related Attractions
Dhulikhel is a small town in the hills with a beautiful view of the mountains. It lies on the traditional trade route to Tibet.
The small town of Panauti is home to a number of impressive temples.
Nala, Nepal
In the Banepa Valley north-west of Banepa lies the Newari village of Nala, boasting two important shrines.
Bhagavati Mandir
The perfectly proportioned Bhagavati Mandir stands in a courtyard at the highest point in the village. One of two four-storied temples in the Valley, it towers high above the surrounding buildings. The mandir as seen today was constructed in 1647 during the reign of King Jaghat Prakasha Malla. The religious symbol however is older, dating from the 12th c., the passage of time and centuries of devotion having transformed it into a virtually formless stele. The façade of the temple is festooned with offerings - mainly domestic items such as pots, pans and sauce ladles, even the occasional kitchen clock.
Lokeshvara Mandir
Situated on the perimeter of the village is a Buddhist shrine dedicated to Lokeshvara, or Karunamaya. The white-faced idol, magnificently arrayed and bearing a crown, shows an unmistakable resemblance to the Shveta Matsyendranath in Kathmandu. The inhabitants of Nala being almost exclusively Hindu, the Buddhist Lokeshvara had few followers, as a result of which the temple was long neglected. Kathmandu's Buddhist community recently resolved to revive the shrine and financed its restoration, since when a procession takes place there annually.
Thought to be the oldest temples in the Kathmandu Valley, Changu Narayan has a history that traces back to the 4th C. Following fires and earthquakes, the temple has been rebuilt and enriched over the centuries.
Surya Vinayaka
About a kilometer from Bhaktapur, on the south side of the Hanumante river, stands the most important of four shrines to Ganesh in the Kathmandu Valley. Situated on the eastern side of a wooded hill the shikhara-style temple is the first of the four to feel the rays of the rising sun. It is here therefore that Ganesh first renews his acquaintance with the sun god Surya who, in a kind of inversion of ritual, displays by his daily "round" of the valley his special regard for this particular shrine.In front of the 17th c. temple stands a column bearing Ganesh's attribute the rat, in unusually large and realistic form. The god promises help to children slow in learning to speak and on Tuesdays in particular he is brought gifts of ladoo, his favorite food, to seek his favor. On the hill there is a little shrine dedicated to Parvati, the mother of Ganesh. From here there is a good view of the valley.
Map of Bhaktapur Attractions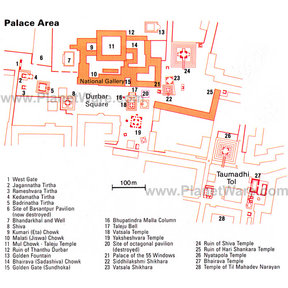 Bhaktapur Map
More on PlanetWare