Western Esplanade, Nassau
Running between the British Colonial Hotel west to Cable Beach is a series of undeveloped public beaches and parks. The main features opposite these beaches are Fort Charlotte and adjacent Ardastra Gardens, Arawak Cay (which hosts a dozen seafood restaurants used by local residents) and luxury houses.
Related Attractions
Ardastra Gardens, Zoo, and Conservation Center
Best known as the home of the marching flamingos, the Ardastra Gardens, Zoo, and Conservation Center is set in five acres of tropical gardens. The flamingos have been trained to march in formation to commands like forward march and about face. The show is held three times daily at 10:30, 14:00 and 16:00 and there are opportunities for a few spectators to be photographed with the flock.For the record Caribbean flamingos which live about 40 year in the wild, will live into their 60s in captivity. The largest flock in the Bahamas is on Great Inagua island.This zoo specializes in the conservation of Caribbean species including the endangered Bahama Parrot and several species of iguanas.This small zoo also has a good collection of wild cats such as jaguars, parrots and small mammals. It plays an important role in the education of local children. The gardens are well done and would warrant a visit in themselves.
Cable Beach
Nassau's Cable Beach is so named because the submarine telegraph cable came ashore here. Cable Beach is now a resort area. The Nassau Beach Hotel, Sheraton Cable Beach Resort, Breezes, Sandals, Wyndham and the Crystal Palace are located here. Since all beaches must maintain public access, it is quite possible to spend a few hours wandering around the area.
Fort Charlotte
Named after the consort of King George III, this Fort Charlotte was completed in 1789 and functioned for almost a century. After being cleared of cannon in 1891, it was rearmed for WWI.It stands on a hill opposite the entrance to Nassau harbor. While not yet in ruins, it is in poor repair.
Silver Cay, Coral World Marine Center (closed)
This former marine attraction at Silver Cay between downtown and Cable Beach is closed though one can still see a white tower sitting over the bay.
Map of Nassau Attractions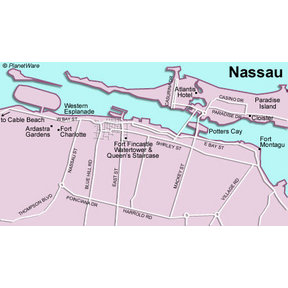 Nassau Map
More Nassau Attractions
Popular Destinations Nearby