The Hill, Nassau
Parallel to the harbor and above downtown is a hill or rather a ridge which sports some fine heritage mansions. In the middle sits Government House, historic home of the head of state. To the west is West Hill Street a block of historic structures like Graycliff, Ranora House (1860s), Villa Doyle (the new National Museum) and St Francis Xavier Cathedral (1885-6). East Hill Street, the site of several public and office buildings is anchored by Fort Fincastle.
Useful tips:
Visitors are advised not to venture the other side of the hill because of concerns about safety.
Related Attractions
Government House & Changing of the Guard
On top of Mount Fitzwilliam stands a pink and white Roman-classical mansion (1801) which until 1973 served as the home of the British Governor General. On the stairs leading to the mansion stands a white statue (1830) of Christopher Columbus. A changing of the guard ceremony takes place at Government House on alternate Saturdays.
Graycliff Hotel
Built in the traditional regional architecture, the 19th century Graycliff mansion opposite Government House has evolved into a fine dining establishment and hotel which is today called the Graycliff Hotel. Several of the dining areas overlook the tropical gardens and pools.The first building on the site was constructed in the 1720s and the property was known to be a boarding house back in 1844. Winston Churchill was once a guest here.
National Art Gallery of the Bahamas
Villa Doyle is a large historic neoclassical mansion which now houses the National Art Gallery of the Bahamas. The oldest section, looking toward the harbor to the north, was built in the 1860s by William Henry Doyle, who was Chief Justice of the Bahamas. The southern wing was added in the 1920s by Sir Walter K. Moore.The collection includes paintings, sculpture, ceramics, phtography, textiles, and other medium.
Fort Fincastle and Water Tower
Fort Fincastle (1793), shaped like the bow of a ship, was built under governor Lord Dunmore whose other title was Viscount Fincastle.Next to the Fort is a 1928 Water Tower 126 ft / 38.4m high which offers good panoramas of Nassau. There is an elevator to the top of the tower.
Queen's Staircase
The long staircase leading (66 steps) up to Fort Fincastle, known as Queen's Staircase, was cut into the limestone in the late 18th century in order to give troops a protected way of getting to fort. It was built by slave labor. A water cascade now flanks the staircase.
The Hill Pictures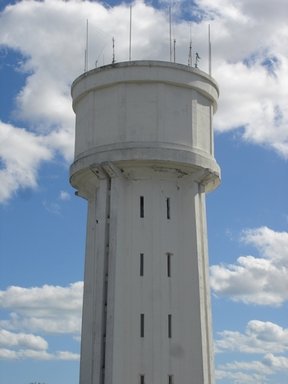 Map of Nassau Attractions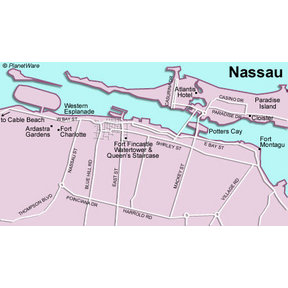 Nassau Map
More Nassau Attractions
Popular Destinations Nearby