Paradise Island, Nassau
Paradise Island is a long cay running parallel to the northern edge of New Providence Island which forms the harbor at Nassau. On one end of the island is the lighthouse which marks the entrance to the harbor. At the other end is a golf course. In between are several resorts and a series of mansions. The most prominent resort on the island is the Atlantis Hotel.Several seagoing sightseeing boats leave from Paradise Island.The former name of the island is Hog Island. The island was privately owned by A&P supermarket chain owner Huntington Hartford, until he developed it as a resort.
Useful tips:
There is a toll of $2 on the bridges.
Related Attractions
The Atlantis Hotel on Paradise Island is a huge resort themed after the mythical city. On site are numerous pools, waterslides and all manner of entertaining sights, including an aquarium.
French Cloister at One and Only Club
While the exclusive One and Only Club is for members only, one of its unique features is visible from the road which runs to the eastern end of Paradise Island. The gothic stone cloister was built in the 12th-13th century in France and transplanted to the Bahamas in 1962. While the grounds are not open to tourists, the cloisters are easily viewed from the road.
One and Only Ocean Club Golf Course
Ocean Club Golf Course on Paradise Island offers an 18-hole, par 72 course which lays over 7,100 yards on the eastern tip of Paradise Island.
Paradise Island Ferry Terminal
The ferry terminal on Paradise Island, located between the two bridges, has become an increasingly important departure point for a number of sightseeing cruises.
Dolphin Encounters
Dolphin Encounters takes clients three miles northeast of Paradise Island to Blue Lagoon Island also known as Salt Cay. Here visitors can partake in two programs Swim with the Dolphins and Close Encounters.The Swim program includes an orientation plus a 30 minute swim to touch, feed and cavort with these friendly mammals.Close Encounters has visitors stand on a platform three-feet below the surface so they can touch and feed the dolphins.Dolphin Encounters has also added encounters with sea-lions!
Blue Lagoon Island
Thirty minutes out of Nassau, Blue Lagoon Island is a private island offering a range of beach and watersports with the highlight being the ability to view and touch stingrays at the Stingray City Marine Park (3.5 acres underwater).
Map of Nassau Attractions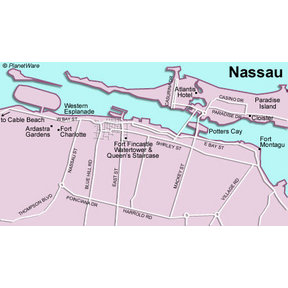 Nassau Map
More Nassau Attractions
Popular Destinations Nearby