Atlantis Hotel, Paradise Island
If the ancient lost city of Atlantis existed, it must have had sophisticated yet ancient designs for its power generation, diving machines and other structures. The Atlantis resort designers have gone to great lengths to imagine what this city would have looked like and have created its life and eventual watery doom while integrating them with the modern features of a luxury hotel.Decorations reflect real and mythical creatures - seahorses, flying horses, helmeted domes, giant bronze doors with writing and designs, an entire fantasy world. As a theme resort, it compares favorably with the best of Las Vegas.The hotel has the largest open air aquarium in the world and certainly the largest aquarium of any kind in the Caribbean. The aquarium specializes in native tropical species and the tanks include the ruins and sculptures of Atlantis. One tank gives the visual impression of the new Atlantis towers rising from the old.
Address:
Box N-4777, Bahamas
Useful tips:
While all facilities are open for hotel guests, non-guest must pay for a tour and the use of facilities.
Related Attractions
Atlantis Hotel Aquarium
Billing itself as the largest open-air aquarium in the world, the Atlantis aquarium facility concentrates on a collection of Caribbean species. One watches stingrays and schools of shining fish swim among the fanciful artifacts of the lost city of Atlantis. While some of the tanks are used as a backdrop for the lobby and restaurants, these free peeks are only a small fraction of what is to be seen.
Atlantis AQUAVENTURE
AQUAVENTURE is the water theme park at the Atlantis Hotel complex. Covering 141 acres and with twenty million gallons of water this is one of the biggest water parks in the world. Attractions include water slides, and an adventure river ride with rapids and waves. Water escalators bring guests to back to the top of the rides to avoid having to climb stairs.
Map of Nassau Attractions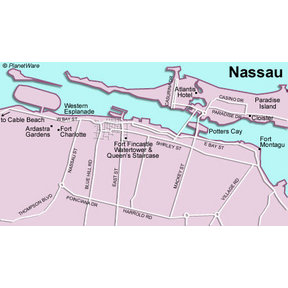 Nassau Map
More Nassau Attractions
Popular Destinations Nearby