Market and George Streets, Nassau
Market and George Streets in Nassau run parallel from Bay up to Government House and are the location of some of the more important heritage structures. Christ Church Cathedral (1837-45), Trinity Methodist (1861-5), St Andrew's Presbyterian (1810). Important houses include Balcony House (1788), neighboring Verandah House (1790s) and the Gregory Arch (1852) over Market Street.
Related Attractions
Balcony House
Balcony House is an 18th-century restored historic structure (1788); the oldest wooden residence still standing in Nassau and a fine example of a tropical colonial house. The interior has been restored using both period antiques and object original to the house with guided tours given.The house was once leased by newspaper baron Lord Beaverbrook whose guests included Ian Fleming, Lord Mountbatten of Burma and Prince and Princess Michael of Kent (cousins to the Queen).When the house was built it stood close to the waterfront, though the town has expanded two streets down through infill. One of the early owners was Stephen Dillet, a free black who came to Nassau from Haiti shortly after the 1838 Bahamian emancipation. Not knowing that he was to stay over the hill like the other blacks, he bought the house, thereby giving the black community the courage to come into Nassau and start businesses. Dillet went on to become a Member of Parliament and Postmaster General.One of the interesting facts about Balcony House is all the design and construction features which were used to keep the house cool, dry and termite free.Among the antiques on display are a mahogany set of swan-neck chairs, four poster beds, a drop-front desk, china and crystal and hand-worked brass valences.
Pirates of Nassau Museum
Pirates play a very important part in the history of Nassau and the Pirates of Nassau Museum, using dioramas, a few artifacts and interactive signage, clears up a few myths. One is that the jolly roger skull and cross bone was the flag of all pirates, whereas each ship had it's own flag. Pirate ships voted for their captains and rules, being generally more democratic, leisurely and profitable than royal or commercial ships, facts that caused many to join the life of plunder. They also provided compensation to the high proportion of pirates injured in combat. Pirates who transgressed ship rules were marooned, being made "governors of their own island".The museum conducts tours of the pirate sites around the city of Nassau for an extra fee.
Christ Church Cathedral
The stone Christ Church Cathedral in Nassau, in simple Gothic style and square tower, was started in 1837 and consecrated in 1845. It replaces four earlier churches stretching back to about 1670.The interior has a fine set of stained glass windows, an impressive organ and a mahogany ceiling. What is of particular interest are the memorial plaques from the 1800s documenting the life histories of local residents and their deaths in shipwrecks, of yellow fever and after childbirth.
Map of Nassau Attractions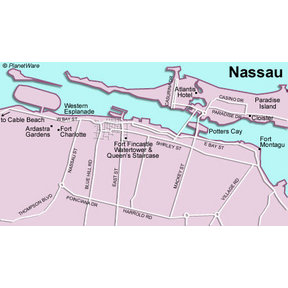 Nassau Map
More Nassau Attractions
Popular Destinations Nearby