Southern Part of the Old Town, Naples
The southern part of the old town of Naples includes the Teatro San Carlo and the five- towered Castel Nuovo.
Related Attractions
San Carlo Theater
Naples busiest traffic intersection is the Piazza Trieste e Trento, on the east side of which stands the Teatro San Carlo, one of the largest theaters in Europe (2,900 seats). Immediately north is the Galleria Umberto, a shopping arcade built in 1887-90.Built expeditiously, in half a year, for King Charles' birthday in 1737, this gilded Neo-Classical building is one of the largest opera houses in Italy and is considered to have outstanding acoustics. With seating for 3,500 San Carlo has the reputation of attracting the noisiest and worst-behaved audiences in Italy. It was bombed in 1943 but quickly rebuilt. Since the original construction, the theater has been rebuilt several times.
San Francesco di Paola
Adjoining the Piazza Trieste e Trento on the south is the large Piazza del Plesbiscito, occupied on the west side by the church of San Francesco di Paola (1817-46), an imitation of the Pantheon in Rome.
Naples Royal Palace
Along the east side of the Piazza del Plesbiscito is the Palazzo Reale, the former Royal Palace, begun in 1600 by Dominico Fontana and restored in 1837-41. On the facade (169m/185yd) are eight marble statues of the various kings who ruled Naples. The palace contains a grand staircase of white marble (1651), a theater, seventeen richly appointed state apartments and the valuable Biblioteca Nazionale (1,500,000 volumes, 12,000 manuscripts, 5,000 incunabula).
Castel Nuovo
Behind the Palazzo Reale to the northeast, on the south side of the Piazza del Municipio, is the five-towered Castel Nuovo, also known as the Maschio Angioino, once the residence of kings and viceroys of Naples. Originally built by Charles I of Anjou in 1279-82, it was enlarged by Alfonso I of Aragon and has recently been restored. The entrance is formed by a splendid Early Renaissance triumphal arch, with rich sculptured decoration, erected between 1453 and 1467 in honor of the entry of Alfonso I of Aragon. In the courtyard is the Gothic church of Santa Barbara (or Cappella Palatina), and to the left of this the large Baron's Hall.
Town Hall (Statue of Victor Emmanuel II)
In the center of the Piazza del Municipio, which is laid out in gardens, stands an equestrian statue of Victor Emmanuel II (1897). On the west side of the square is the fine Town Hall (1819-25), originally built to house government departments.
San Giacomo degli Spagnoli
Adjoining the Town Hall the church of San Giacomo degli Spagnoli (1540) has behind the high altar, the sumptuous tomb of Viceroy Don Pedro de Toledo, founder of the church.
Map of Naples Attractions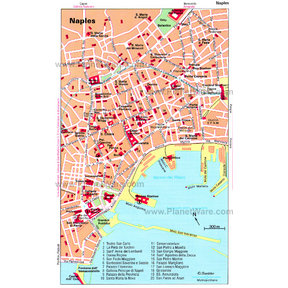 Naples Map
More Naples Attractions
Popular Destinations Nearby