Posillipo
Southwest of Naples is Posillipo, a ridge of hills 6km/4mi long, covered with villas and gardens, between the Bay of Naples and the Bay of Pozzuoli, with magnificent views. The name comes from a villa called Pausilypon ("Sans-Souci") which belonged to the notorious epicure Vedius Pollio and later to Augustus.
Related Attractions
Remembrance Park
From Via Caracciolo, which ends in Mergellina, the Via di Posillipo runs southwest above the sea. Climbing slightly, it comes in 4km/2.5mi, after passing the end of Via Boccaccio, to the Parco della Rimembranze (153m/835ft), lying at the southwest end of the ridge almost vertically above the sea and the rocky volcanic island of Nisida. From the road encircling the park there are beautiful views.
Mergellina
Via Boccaccio runs uphill into Via Manzoni, from which Via Petrarca continues gently downhill, affording extensive views, to Via Orazio. On the upper part of this road to the left is the pilgrimage church of Sant'Antonio, from which there is a famous view of Naples. Beyond this the road descends to the suburb of Mergellina, with a picturesque harbor, Porto Sannazzaro (hydrofoil services to Capri and Ischia). A little way north, at the exits of two tunnels through the hill of Posillipo, are the Piazza Sannazzaro and the Piazza di Piedigrotta, where stands the church of Santa Maria di Piedigrotta (13th century), with a Renaissance cloister (famous traditional fiesta from September 5th-13th: principal celebrations on September 7th).To the west of the church, immediately beyond the railway underpass, is the entrance (on the left) to the Parco Virgiliano, in which are the tomb of the poet Giacomo Leopardi (1798-1837) and a Roman structure (actually the columbarium of an unknown family) known as the Tomb of Virgil (70-19 B.C.), who had a villa on Posillipo and desired to be buried there.
Fuorigrotta
From the entrance to the Parco Virgiliano the Galleria delle Quattro Giornate leads west to the suburb of Fuorigrotta, with huge blocks of apartments, a stadium (1959) seating 100,000 spectators, the new buildings of the Technical University (1965) and the Mostra d'Oltremare complex, a large exhibition center, with two theaters, a swimming pool, an illuminated fountain, a zoo and a large amusement park, Edenlandia.
Map of Naples Attractions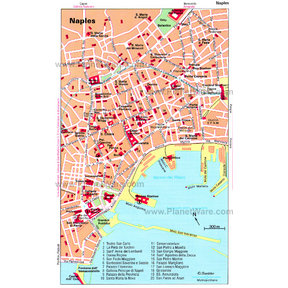 Naples Map
More Naples Attractions
Popular Destinations Nearby