Cathedral de Santa María, Murcia
Murcia's most important monument is the Cathedral of Santa María, to the north of the Palacio Episcopal (Bishop's Palace). Begun in 1358 in Gothic style on the site of an earlier mosque, it was partly rebuilt in the 16th century and much altered from 1748 onwards, when the ornate Baroque west front was built. The side doorways are also richly decorated: in the south transept the Gothic Portada de los Apóstoles (by Antonio Gil), in the north transept 16th century Portada de las Cadenas. From the top of the 92m/302ft high tower (begun in 1521 but completed only in 1792) there are fine panoramic views of Murcia and the Huerta.
Cathedral de Santa Maria Map
Important Information:
Address:
Plaza San Agustín 3, E-30004 Murcia, Spain
Opening hours:
7am-1pm, 5pm-8pm
Useful tips:
Closed during the Romeria of the Virgende la Fuensanta.
Cathedral de Santa Maria Highlight
Cathedral - Interior
The finest of the side chapels is the fourth chapel in the south aisle, the Capilla de Junterón, in consummate Renaissance style (by Jerónimo Quijano, 1525 onwards). The central altar (probably Italian work) has a representation of the Adoration of the Shepherds.The Capilla Mayor, enclosed by a reja of 1497, has a gilded retablo (19th C.). In a recess on the left is an urn containing the entrails of Alfonso the Wise; on the right are the relics of St Fulgentius and St Florentina. The choir, separated from the nave by an ornate screen, has fine Plateresque stalls (1571). The most notable of the chapels round the ambulatory is the Capilla de los Vélez (fourth on right), the burial chapel of the Vélez family (1491-1507), with an extraordinary Isabelline doorway, delicate figural and plant ornament reminiscent of Arab work and a high dome.The Portada de la Antesacristía in the north aisle leads into the sacristy, which has very fine paneling by Jerónimo Quijano.
Diocesan Museum
The Diocesan Museum is housed in the cloister and chapterhouse. Among its principal treasures are a Roman sarcophagus, three works of sculpture by Salzillo, a monstrance coated with gold leaf from Toledo (1678), an 18th century silver monstrance and the large silver "Maundy Thursday chest".
Map of Murcia Attractions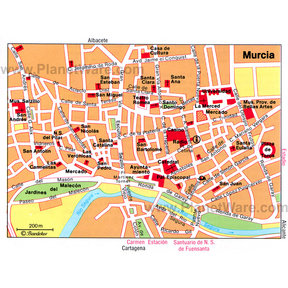 Murcia Map
Popular Destinations Nearby