Theatine Church of St Cajetan, Munich
Theatinerkirche
The Theatinerkirche, dedicated to St Cajetan, founder of the Theatine Order, stands just to the west of the Feldherrnhalle in Munich. A basilica in the style of the Italian High Baroque, it is one of Munich's finest churches, and together with the Frauenkirche and Peterskirche one of the city's most prominent landmarks.The church was founded by the Elector Ferdinand Maria and his wife Henrietta Adelaide in thanksgiving for the birth of Max Emanuel, the son and heir they had long desired.
Theatine Church of St Cajetan Map
Important Information:
Opening hours:
May 1 to Nov 30:
10am-1pm, 2pm-4:30pm; Sat: 10am-1pm, 2pm-3pm; Closed: Sun
Transit:
U-Bahn: U3, U4, U5, U6 (Odeonsplatz).
After its consecration the church, which also served as a Court Church, was assigned to the Theatine Order. Since 1954 it has been served by Dominicans.The church (Latin cross plan, domed) was designed by the Italian architect Agostino Barelli, who also directed the first stage of its building (1663-69). His successor Enrico Zuccali completed the 71m/233ft-high dome, decorated the interior and built the twin towers which had not been provided for in Barelli's plan; this second building phase was completed by 1690. The facade was completed only in 1765-68, in the reign of Max III Joseph, being designed in the style of the Late Roccoco period by François Cuvilliés and his son.The facade with its twin towers is clearly articulated both vertically and horizontally. The marble statues in the niches (SS Ferdinand, Adelheid, Maximilian and Cajetan) are by Roman Boos. The towers have serpentine ornament just below their domed tops while the massive central dome is capped by a lantern with a lion weather-vane.The interior is dominated by the tall round-headed arches of the barrel vaulting and the dome over the crossing. The whole interior surface is washed in white, with rich stucco ornament by Giovanni Antonio Viscardi.Among the most notable features are:The high altar, with a picture, "The Virgin enthroned with Angels" (1646), by Caspar de Crayer, a pupil of Rubens.The Altar of the Virgin (right transept), with a "Holy Kinship" by Cignani (1676) and an "Annunciation" by Desmarées (on altar-table).The Altar of St Cajetan (left transept), with a painting by Sandrart, "Intercession of St Cajetan during the Plague in Naples".The magnificent black pulpit by Andreas Faistenberger (1685-90).Ducal Burial Vault (closed in winter)In the Ducal Burial Vault under the high altar are the tombs of members of the House of Wittelsbach, including Ferdinand Maria, Max Emanuel, Karl VII Albrecht (Holy Roman Emperor and Elector of Bavaria), Max III Joseph and Carl Theodor, Kings Maximilian I and Otto of Greece, the Prince Regent Luitpold and Crown Prince Ruprecht.
Theatine Church of St Cajetan Pictures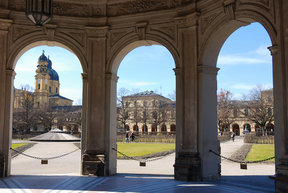 Map of Munich Attractions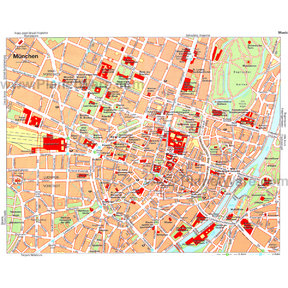 Munich Map