Stuck-Villa
In 1897-98 Munich's "prince of painters" Franz von Stuck (1863-1928) designed for himself, in co-operation with the Munich firm of Heilmann & Littmann, a splendid house which, in both its architecture and furnishings, mingles Jugendstil (Art Nouveau) with elements of the Late Neo-Classical style.The same exquisite blend was preserved when the house was enlarged in 1913-14 by the addition of a studio annex.
Important Information:
Address:
Prinzregentenstr. 60, D-81675 Munich, Germany
Opening hours:
11am-6pm; Closed: Mon
Entrance fee in EUR:
Family €6.00, Adult €4.00, Concession or reduced rate €2.00
Transit:
U-Bahn: U4 (Prinzregentenplatz); Tram: 18.
In the front garden, in front of the portico, stands Stuck's superb "Bronze Amazon", considered by many to be his finest sculpture.The facade of the upper story is embellished with reliefs, as also is the entrance hall (including a copy of the Medusa Rondanini, the original of which is in the Glyptothek).The walls of the elegant ground floor living rooms were decorated by the painter himself, evidently influenced by the frescoes at Pompeii. Many of his paintings are on display, among them a version of "The Guardian of Paradise" and "Sin", a work much discussed in Stuck's own time.Other rooms in the house no longer have their original furnishings and are used for temporary exhibitions.In 1992 work began on establishing a permanent exhibition of Munich Jugendstil on the first floor.
Map of Munich Attractions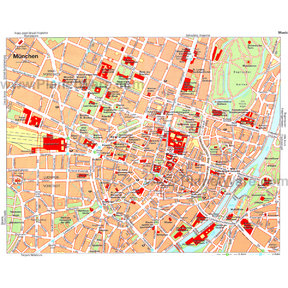 Munich Map