Schack Gallery, Munich
Schackgalerie
The Schackgalerie occupies a building designed in 1907 by the architect Max Littman for the Prussian legation. The Gallery houses a notable collection illustrating the development of German painting in the 19th C. Its founder, Count Adolf Freidrich von Schack (1815-94), was a generous patron of the arts, purchasing and commissioning works by many 19th C. German painters including Schwind, Spitzweg, Lenbach and Böcklin.
Important Information:
Opening hours:
9:15am-4:30pm; Closed: Tue
Transit:
Tram: 20; Bus: 53.
The collection, which von Schack bequeathed to the German Emperor, now forms part of the Bavarian State collection.It is divided into three sections.Ground floorRoom I: Paintings of the Early Romantic school by Johann Georg von Dillis ("View of the Quirinal", etc.), Leo von Klenze, Joseph Anton Koch and others.Room II: Carl Rottmann.Room III: Joseph von Führich, Edward Jacob von Steinle.Rooms IV and V: Moritz von Schwind ("In the Forest", "Early Morning", "Rübezahl", etc.).Room VI: Eugen Napoleon Neureuther.Room VII: Eduard Schleich ("Lake Starnberg"), Carl Spitzweg ("A Hypochondriac").Rooms VIII and IX: Late Romantic landscape painting.StairsLenbach copiesFirst floorRooms I and II: Arnold Böcklin ("Pan frightens a Shepherd", "House by the Sea").Room III: Franz von Lenbach ("Shepherd Boy", "Self-Portrait", "The Alhambra in Granada", etc.).Room IV: Anselm Feuerbach ("Portrait of a Roman Lady", "Children making Music, watched by a Nymph", "Paola and Francesca", etc.).Room V: Hans von Marées, copies.Second floorRoom I: Munich landscape painters.Room II: German landscape painters in Italy.Room III: Late German historical painters.
Map of Munich Attractions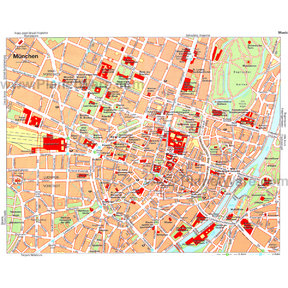 Munich Map