Old Town Hall, Munich
Altes Rathaus
Munich's Gothic Town Hall, known since the 19th C. as the Old Town Hall, was built by Jörg von Halspack (known as Ganghofer) between 1470 and 1480 (an earlier building, the first town hall to stand on the east side of the present Marienplatz, is known to have been under construction in about 1310). After undergoing modification in accordance with the taste of the day in the Late Renaissance and Baroque periods, the Altes Rathaus was reconverted to the Gothic style in 1861-64.
Important Information:
Transit:
S-Bahn: S1-S7 (Marienplatz); U-Bahn: U3, U6 (Marienplatz)
It was badly damaged during the Second World War, restoration beginning shortly afterwards. The archway and passage for pedestrians date from the 19th century.The 55m/180ft tower of the Old Town Hall, rising prominently in the southeast corner of the Marienplatz, was rebuilt in 1975 after its destruction by wartime bombing.The Council Chamber served additionally as the meeting place of the Estates, as a ballroom for Munich's patrician families, a dance hall during the Shrovetide festivities and for civic receptions. It was also used by the Wittelsbach Dukes of Bavaria for state occasions.The interior is a masterpiece of medieval design. It has a barrel-vaulted timber roof with decorated beams and golden stars, a frieze of coats of arms (1478) and the celebrated figures of Morisco dancers by Erasmus Grasser (originals in Municipal Museum).
Related Attractions
Munich Toy Museum
The small toy museum (Ivan Steiger Collection) now established in the Altes Rathaus tower has an interesting miniature railroad and a variety of other toys including lead toys and pretty dolls and doll's houses.
Map of Munich Attractions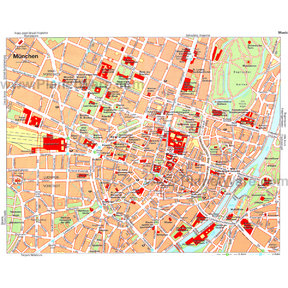 Munich Map