Old Court, Munich
Alter Hof
The Alter Hof, formerly also known as Ludwigsburg, was the first Munich residence of the Wittelsbach family (1253-1474). Built by Duke Ludwig II after the division of Bavaria (1255), its most brilliant period was in the reign of the Emperor Ludwig the Bavarian, who ruled the Holy Roman Empire from here between 1328 and 1347. By the end of the 14th century the building had become too small, antiquated and unsafe, and the Dukes began to build a new fortified residence.
Important Information:
Transit:
S-Bahn: S1-S7 (Marienplatz).
From the 17th century the Alter Hof was used only for administrative purposes; it is now occupied by a tax office.The handsome inner courtyard is open to the public, but not the interior. The four ranges of buildings surrounding the courtyard were much altered and enlarged in later centuries. At the beginning of the 19th century St Lawrence's Chapel (Lorenzkapelle) in the north wing and the gate-tower at the south end were pulled down (though the tower was later rebuilt in its original form).After the Second World War the whole building was restored. The lozenge pattern painted on the walls of the courtyard dates from the 15th century; it was renewed in the 1960s following the uncovering of fragments of the original decoration in 1963.A feature of particular interest is the beautiful Late Gothic oriel in the courtyard, known as the Affenturm (Monkey's Tower). Legend has it that a monkey from the Royal Menagerie carried the infant Prince Ludwig, later the Emperor Ludwig the Bavarian (1314-47), from his nursery and on to the pointed roof of the oriel, bringing him back safely only after much coaxing.During the summer the Alter Hof provides an impressive backcloth for open-air theater and musical events.
Map of Munich Attractions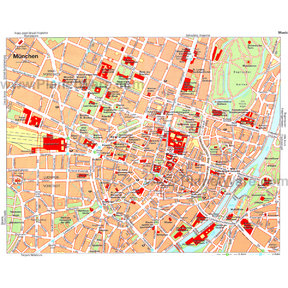 Munich Map