Nymphenburg Summer Palace
This vast Baroque palace on Munich's western outskirts was originally the summer residence of the Wittelsbach Electors. The impressive range of white and gray buildings, more than 600m/2,000ft from wing to wing, with yellow ornamentation and red tiled roofs, was enlarged in symmetrical fashion in several phases.The central mansion was the first part to be built, later linked to pavilions either side by low galleries above open arcades.
Opening hours:
May 1 to Sep 30:
9am-12:30pm, 1:30pm-5pm; Closed: Mon
Oct 1 to Apr 30:
10am-12:30pm, 1:30pm-4pm; Closed: Mon
Facilities:
Restaurant or food service
Transit:
U-Bahn: U1 (Rotkreuzplatz) then tram 12 (Schloss Nymphenburg); Bus: 41.
Related Attractions
Completed in 1674, the Central Pavilion houses a ballroom, dining hall, palace chapel, and gallery. Notable furnishings, tapestries, and painted ceilings adorn the various rooms.
Marstallmuseum
The Marstallmuseum, one of the most important museums of its kind in the world, rivaled only by similar collections in Vienna and Lisbon, was set up in the former Court Stables (Marstall) in the south wing of Nymphenburg Palace in 1950. Vividly evoking the glittering life of the Munich Court, the exhibits include state coaches and sleighs which belonged to the Bavarian electors and kings, also harness, saddles and other accouterments. A particularly notable item, sumptuously decorated, is the coronation coach of the Elector Karl Albrecht (later the Emperor Charles VII). Richly carved, and equipped with harness for a team of eight, it represents a masterpiece of Parisian coachbuilding (ca. 1735).Similarly eye-catching are some splendid coaches from the time of Ludwig I and a magnificent state coach belonging to Ludwig II.
Porcelain Museum
Housed in the south wing of the Nymphenburg Palace is the Porcelain Museum, opened in 1986. This provides a unique and virtually continuous record of the superlative artistry and workmanship of the Nymphenburg porcelain factory, which commenced operations here in 1761. The Bäuml Collection, on loan to the museum, is exceptionally impressive.
Nymphenburg Porcelain Factory
The Nymphenburg porcelain factory, at the north end of the Schlossrondell, was founded in 1747 and installed here in the palace in 1761. The Roccoco creations of its first designer, Franz Anton Bustelli (1754-63), brought it a high reputation, which it has continued to enjoy by maintaining the old traditions.
Map of Munich Attractions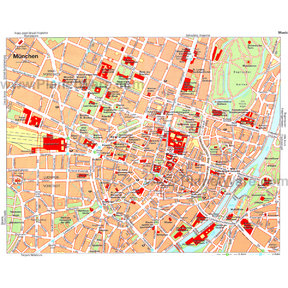 Munich Map