Munich Municipal Art Gallery
Städtische Galerie im Lenbachhaus
Since 1929 this villa, once occupied by the celebrated 19th C. painter Franz von Lenbach (1836-1904), has housed Munich's Municipal Art Gallery.The house was built for Lenbach, in collaboration with him, by Gabriel von Seidl in 1887-91, modeled on an Italian country villa of the Renaissance period. The artist's studios were in the south wing, constructed in 1891 and linked with the main building in 1912.
Munich Municipal Art Gallery Map
Important Information:
Address:
Luisenstrasse 33, D-80333 München, Germany
Opening hours:
10am-6pm; Thu: 10am-8pm; Closed: Mon
Always closed on:
New Year's Eve (Dec 31), Christmas Eve - Christian (Dec 24)
Entrance fee in EUR:
Family €9.00, Adult €6.00, Concession or reduced rate €3.00
Guides:
Guided tour available as optional extra.
Facilities:
Gift shop, Restaurant or food service
Transit:
U-Bahn: U2 (Konigsplatz); Tram: 18 (Karolinenplatz).
The rooms in the main body of the house were badly damaged during the Second World War and now preserve little of their original rich furnishing. The north wing, designed by Hans Grässel, was added between 1927 and 1929, and the annex on the south side in 1972.The Municipal Gallery has particularly fine collections of 19th and 20th C. painting. Perhaps most famous of all today are works by artists of the "Blue Rider" school ("Der Blaue Reiter"), acquired by the Gallery after the Second World War. These comprise early 20th C. paintings by Kandinsky, Klee, Macke, Marc, Münter and Jawlensky. Noted 19th C. Munich artists, such as Spitzweg, Leibl, Defregger and Corinth, are also well represented, while the Gallery's collection of contemporary art contains works by Josef Beuys, Asger Jorn, Arnulf Rainer, Andy Warhol and Anselm Kiefer.Temporary exhibitions are mounted from time to time, for which special arrangements are made. - Recorded program information: tel. 528250. - Museumspädagogisches Zentrum (MPZ), the museum's educational center; by arrangement only: tel. 243805-194, -121.Guided tours on the theme of "Der Blaue Reiter" are organized by the Munich Volkshochschule (adult education college).
Map of Munich Attractions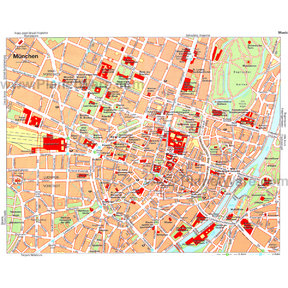 Munich Map