Bavarian State Opera House, Munich
Nationaltheater
The National Theater, Munich's world-famous opera house, originally known as the Königliches Hof und Nationaltheater (Royal Court and National Theater), was Commissioned by King Max I Joseph and built by Karl von Fischer in Neo-Classical style in 1811-18. Burned down in 1823, it reopened in 1825. It was destroyed again during the Second World War, when the Opera moved to the Prinzregententheater, but was rebuilt in its original form and reopened in 1963.
Bavarian State Opera House Map
Important Information:
Address:
Max-Joseph-Platz 2, D-80539 München, Germany
Useful tips:
The Nationaltheater seats 2,120 but tickets can be difficult to get with the best chance for modern operas, nonsubscription operas and repertory operas with house singers. The season runs from the middle of September until June but summer visitors also get a chance to see opera as the Munich Opera Festival takes place in July. The box office for both houses is located at Maximilianstrasse 11, a block from the Nationaltheater and is open weekdays 10 a.m. - 1 p.m. and 3:30-5:30 p.m. and Saturday from 10am-12:30 p.m. On performance days a different box office opens one hour before the curtain around the corner from the Nationaltheater's main entrance on Maximilianstrasse. Tickets can be reserved by mail four weeks before the performance by writing to the box office.
Transit:
S-Bahn: S1-S7 (Marienplatz) U-Bahn: U3, U4, U5, U6 (Odeonsplatz), U3, U6 (Marienplatz).
Several more years of renovation were completed in 1988.The portico with its Corinthian columns and the two triangular pediments are reminiscent of a Greek temple. In the pediment of the portico itself are Apollo and the Muses (by Brenninger, 1972), in the pediment of the tall main structure a colored glass mosaic on a gold ground depicting Pegasus with the Horae (by Ludwig Schwanthaler). The interior is also predominantly Greek in style - the entrance lobby Doric, the staircase Ionic, the Royal Foyer Corinthian. The auditorium with its five tiers of seating is decorated in red, ivory, dove-blue and gold.During the reign of Ludwig II, a fervent admirer of Wagner, the first performances of "Tristan und Isolde" (1865), "Die Meistersinger" (1868), "Rheingold" (1869) and "Die Walküre" (1870) were given in the National Theater. Among the conductors who have directed operas here have been Hans von Bülow, Bruno Walter, Clemens Krauss, Hans Knappenrtsbusch and Joseph Keilberth.The National Theater ranks among the world's leading opera houses. The most brilliant event in the theatrical season is the Munich Opera Festival, held annually in summer.
Map of Munich Attractions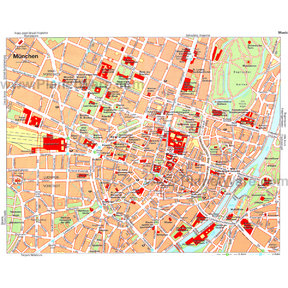 Munich Map
More on PlanetWare