Rue Sherbrooke, Montréal
Named after Sir John Sherbrooke, Governor General of Canada from 1816 to 1818, Rue Sherbrooke is probably the city's most elegant main shopping thoroughfare, still retaining in the downtown section something of its 19th c. charm as it cuts across the Île de Montréal from east to west. At the turn of the century the few thousand people living in this quarter on the slopes of Mont-Royal owned about 70 per cent of Canada's wealth, earning it the title of the "Golden Square Mile".
Related Attractions
McCord Museum of Canadian History
Near Montreal's McGill University, the McCord Museum of Canadian History houses an outstanding collection of exhibits on Canada's social history, featuring the country's native peoples such as the Inuit and Pacific Coast Indians, and colonial life in the 18th c. The museum also possesses an extensive pictorial archive comprising both contemporary and historical material.The museum boasts over 1.3 million objects in it's collection.
Montréal Museum of Fine Arts
The Musée des Beaux Arts, situated on the western edge of downtown Montréal, is the oldest museum in Canada, having been founded in 1860. Several dozen rooms house the city's public art collection comprising paintings, sculpture and items of applied art of all periods from Europe and Canada. For some years now the museum has also mounted major exhibitions of modern art. Equally noteworthy, this time from an architectural point of view, is the museum's annexe by Moshe Safdie.
McGill University
Not far from the museum is the extensive campus of McGill University, its student body currently numbering about 30,000. This major university was founded in 1821 thanks to the generosity of one James McGill, politician and fur trader, whose statue (1875) stands on what was once the site of Hochelaga, the Indian village. Also on the campus is the Redpath Museum of Natural History.
Rue Sherbrooke Pictures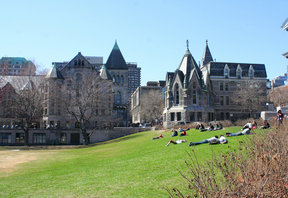 Map of Montreal Attractions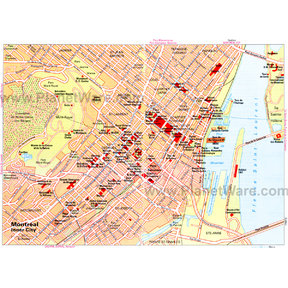 Montreal Map
More Montreal Attractions
Popular Destinations Nearby