Place Jacques Cartier, Montréal
Stretching from the Old Port to Rue Notre-Dame in Old Montreal are the gardens of Place Jacques Cartier, where, under its Nelson's Column, there is a popular market of arts, crafts and souvenirs, surrounded by inviting street cafés and fine 19th c. townhouses and mansions.
Related Attractions
City Hall
The City Hall was designed by Perrault with an eye to the French Empire style of Napoleon III. Built between 1872 and 1878 it had to be restored following a fire in 1922.Its hall of honor is resplendent with marble and bronze, and has a bust of Jacques Viger, Montréal's first mayor in 1833.It was from the balcony of City Hall that, during his visit to Canada in the summer of 1967, the French President Charles de Gaulle uttered his clarion call "vive le Québec libre!" - long live free Québec - meeting with an enthusiastic response from the crowds on the Place Cartier below but considerably upsetting Canada's Federal Government.
Old Palace of Justice
The old palace of justice beside the Montreal City Hall, opened in 1856, is modeled on classical Greek lines and was completed in 1891 with the construction of the dome.
Place Vauquelin
Place Vauquelin in Montreal is a square between the city hall and Palace of Justice, with a fountain and a statue of Jean Vauquelin (by Eugène Bénet, 1930), the officer who tried in vain to defend New France against the British in 1759/60.
Chateau Ramezay Museum
Not far east along the Rue Notre-Dame in Montreal, the Musée du Château Ramezay is an elegant mansion dating from 1705. It was the residence of Claude de Ramezay, Governor of Montréal from 1703 to 1724 and his successors, and provides a period setting for a collection of 18th and early 19th c. costume, furniture, and paintings.The museum features both permanent and temporary exhibitions.
Place Jacques Cartier Pictures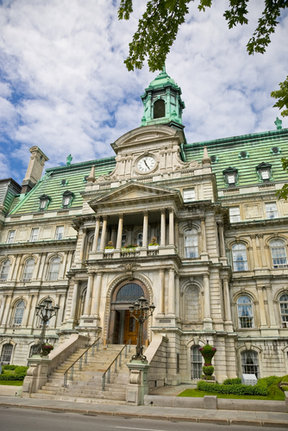 Map of Montreal Attractions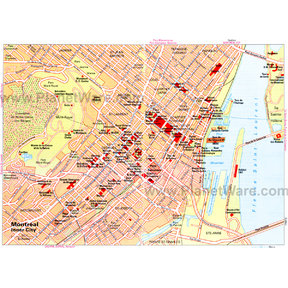 Montreal Map
More Montreal Attractions
Popular Destinations Nearby