Place d'Armes, Montréal
Montreal's Place d'Armes is a square reached by taking the Rue Notre-Dame west out of the Place Jacques Cartier. The statue in the center is by Philippe Hébert (1895) of Paul de Chomedey who in 1642 founded the mission Ville-Marie de Montréal from which the city is regarded as having developed.
Related Attractions
Palais des Congrès
The Palais des Congrès in Montreal, the futuristic conference center at 201, avenue Viger Ouest (main entrance opposite the Complexe Guy-Fatreau), was built in 1983 on the Place d'Armes, over the Ville-Marie expressway. It is linked underground with the Place d'Armes and Place des Arts Metro stations, and has a unique five levels of the very latest in convention facilities on the grand scale. This is where the world climate conference was held in 1990.The Palais underwent an expansion, that was completed in 2002, to double its size.
Notre-Dame Basilica
Also on the Place d'Armes, the Neo-Gothic façade of the Basilica of Our Lady, built in 1829, with its twin towers (69 m (226 ft)) fronts Montréal's oldest Catholic parish church (founded 1656). The amazing interior is the work of Victor Bourgeau, resplendent with woodcarving and stained glass illustrating the history of the city.The Sacré Coeur altar (1982), in the chapel of the same name, consists of 32 bronze panels by Charles Daudelin.The great organ is a Casavant and the recitals held in the church throughout the year are very popular.
Saint-Sulpice Seminary
The Old Seminary of Saint Sulpice, adjoining the Basilica, dates from 1685. The foundation still belongs to the order of Saint Sulpice, a non-ordained priestly order. It began in Paris in 1642 with Abbé Dollier de Casson at its head, and much of the land of Montréal was gifted to it by the king in the 17th c. The seminary is the oldest stone dwelling in a city where originally most buildings were constructed more cheaply and simply in timber.The building, which is not open to the public, is of a refined simplicity, with some late-Renaissance style embellishment. Through the grille can be glimpsed the oldest clock tower in North America, dating from 1710.
Map of Montreal Attractions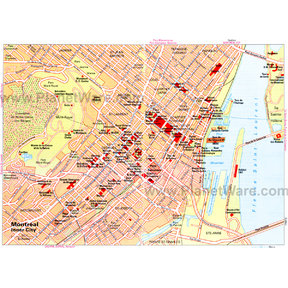 Montreal Map
More Montreal Attractions
Popular Destinations Nearby