Teatro alla Scala, Milan
In Piazza della Scala is a monument to Leonardo da Vinci (1872). On the northwest side of the square stands the Teatro alla Scala (1775-78).La Scala is among the most-celebrated opera houses in the world. It was originally built on the site of the 14th century church of Santa Maria della Scala. The theater seats 2,800 and attracts one of the most demanding audiences in Italy. The season begins in early to mid-December and runs through May but tickets are often difficult to come by. Check with your hotel concierge or visit the box office. You may get lucky and find some seats available up in the gallery.If you are in Milan out of season you can still visit the Museo Teatrale alla Scala in the same building from where you can view the inside of the opera theater. The museum honors the greats who performed and whose works were performed at La Scala including Verdi, Rossini and the great conductor Arturo Toscanini.
Important Information:
Address:
Corso Magenta 71, I-20123 Milan, Italy
Opening hours:
9am-12:30pm, 1:30pm-5:30pm
Entrance fee in EUR:
Adult €5.00, Group discounts €4.00
Useful tips:
Admission prices are for the museum.
Disability Access:
No facilities for persons with disabilities.
Related Attractions
Museo Teatrale
To the left of the main building of the Teatro alla Scala is the Museo Teatrale, with material on the history of the theater; it incorporates a Verdi Museum with numerous mementos of the composer (d. in Milan 1901).
Palazzo Marino
On the southeast side of the square, opposite the Scala, the Palazzo Marino (by Galeazzo Alessi, 1558-60) is now the headquarters of the municipal administration.
San Fedele
Behind the Palazzo Marino, in Piazza San Fedele, stands the fine Jesuit church of San Fedele, begun by Pellegrini in 1569 under San Carlo Borromeo.
Palazzo Belgioioso
Beyond San Fedele, in the beautiful Piazza Belgioioso, is the fine Palazzo Belgioioso, built by Piermarini in 1781.The villa has a beautiful garden with a serpentine lake.
Manzoni House
At the corner of Via Morone (No 1) is Manzoni's House, with the room in which the novelist Alessandro Manzoni (1785-1873) worked and in which he died.
Poldi-Pezzoli Museum
At Via Manzoni 12, in an elegant old patrician house, the Museo Poldi-Pezzoli contains pictures by Botticelli, Mantegna, Piero della Francesca, Guardí and other artists; there are also Flemish and Persian carpets, tapestries, jewelry, silver, bronzes and weapons.A very rare embroidery designed by Botticelli is also to be found in the collection at Museo Poldi-Pezzoli. It is one of the very few museums to have it's entire collection published in a series of specialized volumes.A very large lace collection is also present.
Map of Milan Attractions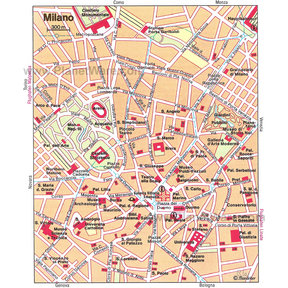 Milan Map
More Milan Attractions
Popular Destinations Nearby