Castello Sforzesco, Milan
The Castello Sforzesco, held successively by the Viscontis and the Sforzas, was built in 1368, demolished by the people of Milan in 1447 and rebuilt from 1450 onwards. The Torre de Filarete, on the nearside (70m/231ft high), is a reproduction (1905) of the original gate-tower.
Related Attractions
Musei del Castello Sforzesco
The Castello houses the Musei del Castello Sforzesco, with a collection of sculpture which consists mainly of medieval and modern works together with some Early Christian material and graves. Its greatest treasure is the "Pietà Rondanini", Michelangelo's last masterpiece, brought here in 1953 from the Palazzo Rondanini in Rome. Other important items are the unfinished tomb of Gaston de Foix of Bambaia and the large tomb, with an equestrian statue, of Bernabò Visconti (d. 1385) by Bonino da Campione. There is also a collection of decorative art, as well as pictures by old masters (including Bellini, Correggio, Mantegna, Bergognone, Foppa, Lotto, Tintoretto and Antonello da Messina), prehistoric and Egyptian antiquities, a collection on musical history and an armory.
Park
Between the two rear courtyards of the Castello is a passage leading to the park, laid out in 1893-97, once the pleasure garden of the dukes of Milan and later a military training ground. In the northeast of the park is the Arena, an amphitheater constructed in 1807 for sporting and other events. To the southeast is an interesting Aquarium.
More Castello Sforzesco Pictures
Map of Milan Attractions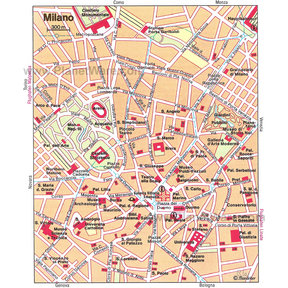 Milan Map
More Milan Attractions
Popular Destinations Nearby