Surroundings, Detroit
Metropolitan Detroit or Detroit Surroundings have many educational, cultural and recreational opportunities.
Related Attractions
Royal Oak, Michigan
Early settlers to Royal Oak were farmers but the advent of the railroad soon brought about logging, milling and other industries. As early as 1891, when Royal Oak was a small village, there were only a few hundred residents. In the 10-year span from 1900 to 1910 the population grew to over 1,000. By the time Royal Oak was incorporated as a city in 1921, the population had expanded to over 6,000.Royal Oak received its name from Gov. Lewis Cass who encountered a stately oak tree, with a trunk considerably wider than most other oaks, while on an exploration of Michigan territory to disprove land surveyors' claims that the territory was swampy and uninhabitable.
National Shrine of the Little Flower
Shrine of the Little Flower Parish was founded in 1926, six months after the canonization of St. Therese of Lisieux. St. Therese was known as "The Little Flower". The entire church is built with Massachusetts' granite and Indiana limestone interspersed with stone blocks from America's states and territories. Each is carved with the state name and flower.
Detroit Zoological Park
The Detroit Zoo has over 125-acres of landscaped grounds featuring animals from around the world in their natural habitats. Highlights include the ape complex, Australian Outback, reptile house and largest poalr bear exhibit, the Arctic Ring of Life.
Belle Isle Aquarium (closed)
Belle Isle Aquarium has sixty exhibits featuring 146 species and 1,500 individual animals. Many are endangered, threatened or already extinct in the wild.
Mill Race Historical Village, Northville, Michigan
In 1827, John Miller built a gristmill on this site and the structure was replaced in 1847 and in 1919, mill owner Donald P. Yerkes sold the site to Henry Ford who razed the structure and built a valve factory across Griswold Street one year later.In 1972 Ford Motor Company donated the land to the city of Northville for use as a historical village. Mill Race Historical Village was born to relocate buildings destined for demolition. The buildings include the New School Church built in 1845, Hunter House built in 1851, the Interurban Station, and Hirsch Blacksmith Shop, a replica of one of Northville's early shops.
Greenmead Historical Park, Livonia, Michigan
The 95 acre Greenmead Historical Park was the 1820's homestead of Michigan pioneer, Joshua Simmons. It includes the original farm complex, the Livonia Historical Village, picnic facilities and recreational areas. The farm complex features an 1841 Greek Revival farmhouse with nine of the original eleven outbuildings still intact.
Motorsports Museum and Hall of Fame, Novi, Michigan
The Motorsports Museum & Hall of Fame houses over 40 racing and high performance vehicles. The collection features racers from the world of Indy cars, stock cars, Can Am, TransAm, sprint cars, powerboats, truck racing, drag racing, motorcycles, air racing, and even racing snowmobiles. Other features include racing videos, driving simulation, games, slot cars, driver uniforms, and memorabilia displays.
Lionel Visitors Center, Chesterfield, Michigan
The Lionel Visitors Center houses a 52-foot-long display of artifacts tracing Lionel's history since its founding in 1900. Visitors will see a 14x40-foot operating layout with ten trains running simultaneously and accessories that can be operated by push button.
Marvin's Marvelous Mechanical Museum, Farmington Hills, Michigan
Marvin's Marvelous Mechanical Museum contains a diverse array of neon signs, antiques, posters, airplanes, robots, animation, and unusual coin operated games. The coin operated games range from the oldest gypsy fortune telling machine of the early 1900's, to the latest video games.
Pontiac, Michigan
Established in 1818, Pontiac was created where the Pontiac Trail crossed the Clinton River. By the 1880s the city had a major wagon and carriage-making industry which has become General Motors.Outdoor recreation is available at municipal parks and over 400 nearby lakes.
Troy City Museum, Troy, Michigan
Troy City Museum is housed in a Greek Revival style home that was built in 1832 and used until 1966. It has been furnished to depict life in Troy in the mid 1800's. Visitors to the Troy City Museum encounter a hands-on learning experience through a collection of artifacts and physical structures.
Walter P. Chrysler Museum, Auburn Hills, Michigan
Interactive displays and vignettes tell the story of the Chrysler Corporation at the Walter P. Chrysler Museum. Seventy cars are exhibited including restored classics, muscle cars, trucks and race cars.
Bloomfield Hills, Michigan
Judge Amasa Bagley cleared land for a tavern and farm in 1819. It became known as Bagley's Corner and remained agricultural until 1900 when city dwellers bought land for estates. The name was changed to Bloomfield Hills in 1932.

Cranbrook Educational Community
The Cranbrook graduate art school and lower, middle and upper school. The fountains and statuary include works by sculptor Carl Milles.
Farmington Hills - Holocaust Memorial Center
The Holocaust Memorial Centre is dedicated to the memory of the Holocaust. Exhibits include Jewish heritage, W W II, Post-war and the Institute of the Righteous which honors non-Jews.
Sterling Heights - Upton House
Built in 1866, Upton House was the the home of a prosperous farmer and merchant until 1891. The Victorian Italianate style of architecture on the exterior has been preserved and the interior has been extensively renovated and remodeled.
Drayton Plains Nature Center, Waterford, Michigan
Drayton Plains Nature Center began in 1967 and now encompasses 137 acres, and 4 miles of designated trails along the Clinton River. The interpretive center displays mounted animals in recreated natural habitats.
Ford-MacNichol Home, Wyandotte, Michigan
This 1896 Victorian home includes original fixtures, furnishings, wallpaper and woodwork. A museum that chronicles the development of the town from an Indian village through the 19th century is located on the lower level.
Grosse Pointe Shores, Michigan
The small community of Grosse Pointe Shores was incorporated in 1911 as a Village. It is home to the Edsel and Eleanor Ford House, and the Grosse Pointe Yacht Club.
Edsel & Eleanor Ford House
Edsel & Eleanor Ford House is the former private residence of Henry and Clara Ford's only child, Edsel and his family - wife Eleanor and their children: Henry II, Benson, Josephine and William Clay. The home was built completed in 1929 and has 60 rooms with a collection of original antiques and art are on display. Visitors can also stroll through the 87-acre lakefront property.
Plymouth, Michigan
Plymouth was founded in 1867 by settlers from Plymouth, Massachusettes. The town's architecture has their Colonial influence.
Plymouth Historical Museum
Permanent exhibits at the Plymouth Historical Museum include 19th century shops on Main Street, Daisy air rifle collection (manufactured in Plymouth), the Alter Motor Car - an automobile built in Plymouth in 1916-17 as well as a hands-on room with toys and games from Then and Now.
Rochester, Michigan
Rochester became a village in 1869 and has several well-preserved nineteenth century buildings in the downtown core.
Meadow Brook Hall
Meadow Brook Hall is the former residence of Oakland University founders Matilda Dodge Wilson, widow of automobile pioneer John Dodge, and her second husband, lumber broker Alfred G. Wilson. Designed by the Detroit architectural firm of Smith, Hinchman & Grylls, the 110-room Tudor-revival style mansion was inspired by English country manor houses of the Tudor and Elizabethan periods. It was built between 1926 and 1929. The interior of the house features elaborately detailing with carved wood and stone, handmade hardware and ceramic art tile, ornately molded and carved plaster ceilings, stained glass window insets, crystal and art glass lighting fixtures and gold-plated bathroom fittings.
Coe Rail Scenic Train, Walled Lake, Michigan
Vintage cars take passengers on a 1-hour train ride through scenic Walled Lake and West Bloomfield.
Zekelman Family Holocaust Memorial Center (formerly Holocaust Memorial Center), West Bloomfield, Michigan
The Zekelman Family Holocaust Memorial Center provides the history of the Holocaust through exhibits, videotape presentations, photographs and a memorial flame.
Map of Detroit Attractions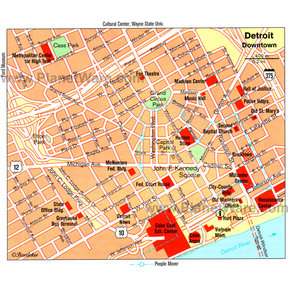 Detroit Map
Popular Destinations Nearby