Little Havana, Miami
The Cuban center of Miami, Little Havana isn't known for its wealth of tourist attractions but more for its distinctive cultural flavor. There are restaurants, specialty food shops, and Latin music is always in the air. Calle Ocho is the main thoroughfare running through the district and home to much of the activity here.For people watching, the area offers a great deal of entertainment. There are many open air areas where people gather to socialize. Murals on the sides of walls show important Cuban figures and scenes of daily life. And of course, this is the place in Miami to come for Cuban cuisine.
Related Attractions
Calle Ocho
From Bayfront Park (Brickell Avenue) 8th Street runs west over the Miami River. Outside the city centre with its skyscrapers it is known as Calle Ocho, and continues into the Tamiami Trail, which runs through the Everglades. The district on the west side of downtown Miami through which it runs is known as Little Havana because of the many Latinos, particularly Cuban exiles, who live here: hence also the Spanish name Calle Ocho ("Street 8"). Between SW 12th Avenue and SW 27th Avenue is an area of shops, small markets, cheerful cafes, and restaurants with a friendly and relaxed atmosphere. The everyday language of Little Havana is Spanish. Planning controls seek to maintain the "Cuban" character of 8th Street.
Cuban Memorial Boulevard
Cuban Memorial Boulevard is lined with monuments commemorating the heroes who fought in the struggle for Cuban independence. Some of the memorials include the Eternal Torch in honor of the 2506th Brigade, statues of Nestor Izquierdo, General Antonio Maceo and the Virgin Mary, as well as a bronze map of Cuba dedicated to "The ideals of people who will never forget the pledge of making their fatherland free."
Cuban Museum of Arts & Culture
A small museum with a permanent collection of work by Cuban artists. It also hosts a number of traveling Cuban exhibitions throughout the year.
Map of Miami Attractions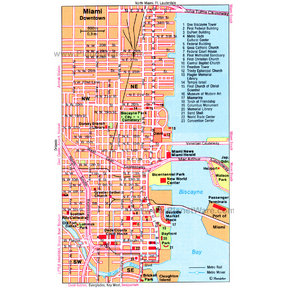 Miami Map
More Miami Attractions
Popular Destinations Nearby