Ocean Drive, Miami Beach
The main strip and most famous area off Miami Beach is Ocean Drive, which runs along the ocean front, behind of the beach. The street is lined with handsome Art Deco buildings, many of which have featured in television advertisements and in films. Today many of these buildings, painted in pastel colors and featuring neon signs, contain restaurants and hotels.Particularly notable buildings are the Beacon (732 Ocean Drive; by Henry O. Nelson, 1926), the Colony Hotel (736 Ocean Drive; by Henry Hohauser, 1936), Waldorf Towers (860 Ocean Drive; by Albert Anis, 1937), the Breakwater (940 Ocean Drive; by Anton Skislewicz, 1939), the Cardozo (1300 Ocean Drive; by Henry Hohauser, 1939), which is busy night and day, and the Cavalier (1320 Ocean Drive; by Roy F. France, 1936).
Related Attractions
Lummus Park Beach
Lummus Park Beach is a perfect destination for people-watching, sunbathing, or getting active. There is a walking / jogging path, an area for working out, volleyball courts, and many restaurants and cafes located across the road. As a result this is a very active and lively place. And of course, there is the beach to hang out or go for a swim.
Map of Miami Beach Attractions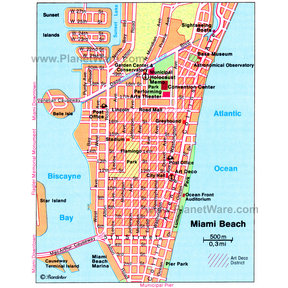 Miami Beach Map
More Miami Beach Attractions
Popular Destinations Nearby