Surroundings, Taxco de Alarcón
Related Attractions
Grutas de Cacahuamilpa
31km/19mi to the north-east of Taxco and situated in the national park of the same name are the 1100 m (3609 ft) high dripstone caves Grutas de Cacahuamilpa (Náhuatl: "in the cacao fields"). Since their discovery in 1835, tunnels have been driven into the caves to a depth of over 16km/10mi without yet arriving at the limits of the cave system.All kinds of different dripstone formations extending through 16 chambers, some of which are as much as 80 m (262 ft) wide and 77 m (253 ft) high, make these caves some of the largest and most interesting in Mexico.
Grutas de la Estrella
26km/16mi north of Cacahuamilpa are the Grutas de la Estrella. Open to visitors since 1976 they can be reached on foot comfortably in 15 minutes.This cave, which is about 1km/.7mi long and has an almost continuous series of stalactites, is probably connected with the caves of Cacahuamilpa, although a definite link has yet to be established.
Ixcateopan, Mexico
The little town of Ixcateopan (Náhuatl: "cotton temple"); population 8000) is situated 40km/25mi west of Taxco in magnificent mountain country. It is said that underneath the altar of the 16th c. church of Santa María de la Asunción, which today houses a museum, the mortal remains were found of the last Aztec ruler Cuauhtémoc, whom Cortés ordered to be put to death in Honduras in 1525.
Old Taxco, Mexico
This small village is about 13 km (8 mi) from Taxco de Alarcón.
Rancho La Cascada
The Castillo family owns this ranch and it boasts a store selling crafts as well as a workshop from which gold, silver, copper, and brass items are made.
Iglesia de San Francisco
This church was built in the 16th c. and is the oldest in the area.
Map of Taxco de Alarcon Attractions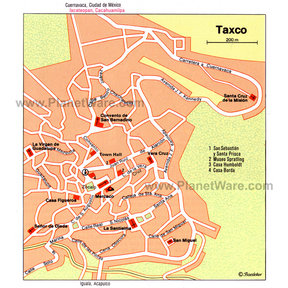 Taxco de Alarcon Map
More Taxco de Alarcon Attractions
Popular Destinations Nearby