Surroundings, San Cristóbal de Las Casas
AdviceMany of these places can only be reached by cross-country vehicles. "Colectivos" (buses) depart from the Zócalo in San Cristóbal for the villages. Market days, with the exception of special holidays, are usually on Sundays.
Related Attractions
Huixtan, Mexico
A few mi past Grutas de San Cristóbal on MEX 190 the road bends left to Ocosingo (about 90km/56mi) and Palenque. The village of Huixtán lies approximately 20km/13mi along this road. As in other mountain villages, only a small number of the Tzotzil Indians now live here in accordance with old Mayan traditions. The village contains only a church, an administrative building and a few shops. The majority of the population live in the surrounding hills.CostumeMost of the men continue to wear their traditional wide white cotton trousers, held up with a broad red sash. Their white shirts are mainly embroidered on the collars and sleeves. A black or brown woollen cape is worn over these. A red band decorates the flat hats, made by the Indians themselves. The women wear long dark blue skirts with a red belt with yellow stripes. The collars of their cotton blouses are embroidered in blue and their white scarves are colourfully embroidered with animals and flowers. Of the approximately 12,000 Huixtecos of the Tzotzil tribe, only about 10 per cent live in Huixtán (fiestas: May 14th-16th, San Isidro; June 27th-30th, San Pedro and September 28th and 29th, San Miguel Arcángel).
San Cristóbal Grottoes
Follow the MEX 190 from San Cristóbal de Las Casas for 10km/6mi towards Comitán until reaching a right-hand turning to the nearby Grutas de San Cristóbal (San Cristóbal grottoes). The part of these now open constitutes only a fraction of the extensive dripstone caves.
Ocosingo, Mexico
Ocosingo, until recently a completely isolated small town in the middle of the Tzeltal Indians' settlement area, is reached after a further 50km/31mi on MEX 190 past Huixtán. It still retains a certain importance as a centre for lumberjacks, chicle gatherers and hunters. The magnificent scenery of the surrounding area, parts of which are difficult to reach, contains unspoiled Indian settlements and haciendas (El Real, Australia, etc.), as well as the picturesquely situated village of Altamirano.
This archeological site reveals a Mayan village that flourished during the 8th and 9th C.
Tenejapa, Mexico
Tenejapa, an Indian village, lies about 28km/17mi north-east of San Cristóbal de Las Casas. Only a few hundred of the total of approximately 15,000 Tzeltal-speaking Indians living in the surrounding area actually inhabit the village.The men's costume comprises a black woollen tunic worn over short white trousers embroidered on the legs, and a straw hat. The women of Tenejapa, who are particularly good at weaving and embroiderery, wear richly-embroidered blouses, dark blue skirts with narrow vertical stripes. They also wear a wide red and black belt and over this a narrow white one (fiestas: January 23rd, San Ildefonso and July 22nd-24th, Santiago Apóstol).
Zinacantan, Mexico
Zinacantán lies about 12km/7.5mi west of San Cristóbal de Las Casas. This village, populated by only a few hundred people, is the religious and political centre of approximately 14,000 Tzotzil-speaking Zinacantecos who live in the area.Striking features of the men's costumes are their grey-checked shawls worn over short white trousers, and their flat straw hats decorated with multi-coloured ribbons. The way in which the ribbons are worn (tied or untied) shows whether the man is married or not. The women's costume compares very unfavourably with that of the men. Brilliant scarlet also features in the garments worn by men and women. Fiestas: January 18th, San Sebastián; August 8th-11th, San Lorenzo; September 8th, Virgen de la Navidad.
San Juan Chamula holds a number of interesting sights, including a small church, and the local people themselves dressed in traditional wear.
Comitan, Mexico
From San Cristóbal de Las Casas it is 57km/35mi south-east on the MEX 190 (Panaméricana) to reach Comitán (1630 m (5350 ft); population 63,000), a pleasant Colonial town in a garden-like setting (orchid growing). There is a small museum in the Casa Dr Belisario Dominguez.
Map of San Cristobal de Las Casas Attractions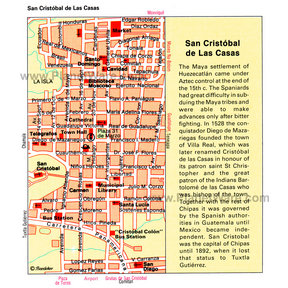 San Cristobal de Las Casas Map
More San Cristobal de Las Casas Attractions
Popular Destinations Nearby