Metropolitan Cathedral, Mexico City
Cathedral Metropolitana
The Cathedral, which dominates the Zócalo square on the north side as the National Palace does on the east, is one of the oldest and largest churches in the western hemisphere. It stands on the south-western part of the old Azrec temple precinct, once occupied by the Wall of Skulls (Tzompantli) and the Temple of Xipe Tótec. The original building, begun in 1525, was later partly demolished and partly rebuilt; the present structure dates from 1563, although the definitive plans were prepared at the end of the 16th c. and the beginning of the 17th by the architects Claudio de Arciniega, Juan Gómez de Mora and Alonso Pérez de Castañeda.
Opening hours:
Apr 1 to Sep 30:
7am-7pm; Sun: 7am-8pm
Oct 1 to Mar 31:
7am-6pm; Sun: 7am-8pm
Always closed on:
Mexico - Battle of Pueblo Day (May 5), May Day / Labor Day (May 1), Mexican Independence Day (Sep 16), Mexico National Day (Sep 1), Mexican Revolution Day (Nov 20)
Metropolitan Cathedral Highlights
Cathedral Sacristy
In the Sacristy, which has 16th c. Gothic groined vaulting, hang pictures painted about 1665 by Cristóbal de Villalpando ("Immaculate Conception", "Triumph of the Church") and Juan Correa ("Coronation of the Virgin", "St Michael and the Dragon", "Entry into Jerusalem").
Cathedral Crypt
In the Crypt can be seen the tombs of most of the archbishops of Mexico City, among them Juan de Zumárraga, the great teacher of the Indians and the first incumbent of the see.
Map - Metropolitan Cathedral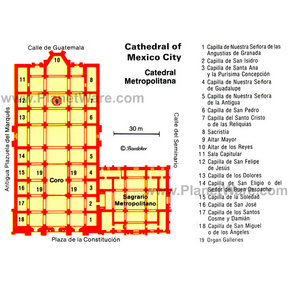 Map - Cathedral of Mexico City (Catedral Metropolitana)
Map of Mexico City Attractions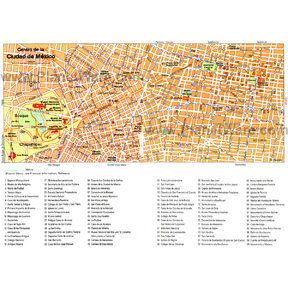 Mexico City Map
More Mexico City Attractions