Sint-Rombouts Cathedral, Mechelen
Behind the post office rises the metropolitan Sint-Rombouts Cathedral, begun in the 13th C. and completed as far as the choir in 1342 when a fire broke out. In 1375 reconstruction was finished.
Sint-Rombouts Cathedral Highlights
Sint-Rombouts Cathedral Clock Tower
The building of the tower was begun in 1452 and it was intended to be 167m/580ft, the highest tower in Christendom. However, when William of Orange required building material for the fortress of Willemstad in 1546, work was stopped and never again restarted. However the form of the tower which is only 97m/318ft high is imposing on account of its clear vertical lines and Gothic decoration. The dials of the tower clock (1708) have a diameter of 13.7m/45ft.There are two carillons each with 49 bells, one dating from the 17th C., the other from 1981 and altogether weighing 17 tons. They are played in summer on Mondays from 8.30 p.m.The tower is a UNESCO site.
Sint-Rombouts Cathedral Interior
The interior of this spacious church has important works of art, including statues of the Apostles dating from 1774 on the pillars of the nave and the grave of Cardinal Mercier (1851- 1926), who opposed German occupation forces in the First World War, which can be seen in the left aisle near the Lady Chapel. In the Chapel of the Sacrament at the base of the tower is a communion bench by Artus Quellin the Younger and in the second chapel on the left weapons of the Knights of the Golden Fleece who in 1491 maintained a chapter of their order in Sint- Rombouts. In the transepts are several pictures dating from the 15th-16th C. including, on the right, the remarkable painting "Christ on the Cross" by Anton van Dyck (1627). The Baroque high altar (1665) of white marble was created by Luc Fayd'herbe, a citizen of Mechelen. In the choir ambulatory are four Baroque tombs of archbishops, including von Granville, and pictures from the life of St Rombout.
Sint-Rombouts Cathedral Pictures
Map of Mechelen Attractions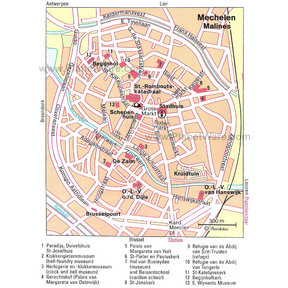 Mechelen Map
More Mechelen Attractions
Popular Destinations Nearby