Surroundings, Salem
Related Attractions
Beverly, Massachusetts
Beverly, just north of Salem, was founded in 1626 and served as the birthplace of the United States Navy. The town is home to Endicott College and a campus of the public North Shore Community College as well as several high technology firms.
Beverly Historical Society and Museum
The Beverly Historical Society and Museum maintains three historic homes, all of which are listed on the National Register of Historic Places. They are Cabot House, Balch House, and Hale Farm.
Cabot House
The brick Cabot house was built in 1781 by John Cabot. Permanent exhibits include dolls, portraits art, military artifacts and manuscripts from the American Revolution, and maritime items. The house was the site of the Beverly Bank, the nation's oldest community bank, from 1802 to 1868.
Balch House
Built in 1636, Balch House is one of the oldest in the country. The house has been restored to as close to its original design as possible and is furnished in period.
Hale Farm
Hale Farm was built in 1694 and owned by Reverend John Hale, who was involved in the witchcraft trials of 1692 when his wife was accused of being a witch. Reverend Hale also established the First Parish Church in Beverly in 1667.
Long Hill, Wenham, Massachusetts
The town of Wenham was first settled in 1635 and offers 300 acres of parks, playgrounds and recreational lands.Long Hill, home of Ellery Sedgewick, has a garden with over 400 herbs, trees, plants and flowers.
Wenham Museum
The Wenham Museum, shares the campus with the 1690 Claflin-Richards House, and features antique furnishings, clothing and textile exhibits. The extensive doll and toy collection features a rotating exhibit of 1,000 dolls. The Bennett E. Merry Train Gallery is devoted to trains and train memorabilia.The Family Discovery Room at the Wenham Museum has interactive, hands-on activities such as a grocery store, teahouse and playhouse.
Map of Salem Attractions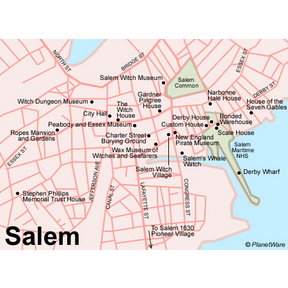 Salem Map
Popular Destinations Nearby