Old Harbor Area
Related Attractions
Old Harbor
In the west of Marseilles, where the Canebière begins, lies the picturesque Vieux Port (Old Harbor; 25ha/62 acres, 4-7m/13-23ft deep), which is now used only by fishing boats and sports craft. From here boats leave for the Château d'If and Calanques, near Cassis. The lively waterfront, especially the Quai des Belges on the east side (fish market every morning), is a focal point for tourists. At the harbor entrance two forts stand sentinel, on the left the Fort St-Jean and on the right the Fort St-Nicolas (17th C.; viewpoint).
Abbey Saint Victor
To the east of Fort St-Nicolas is the fortress-like Basilique St-Victor, which once belonged to an abbey founded in the fifth century. In its present form, with its turreted towers, it is of 11th and 14th century date; the foundations go back to Early Christian and Carolingian times. In the crypt can be seen the original catacomb chapel and the Grotto of St Victor, and in the basilica a 13th century Black Madonna.
Notre-Dame-de-la-Garde
The 154m/505ft high limestone hill in the south of Marseilles was used in ancient times at least as an observation point or guard post. In the 15th C. it was the official relay station for the royal intelligence network (smoke and light signals). Today the Basilique Notre-Dame-de-la-Garde on its summit is the landmark of the city, visible from afar. It was built on the site of a medieval pilgrimage chapel in 1853-1864 by Espérandieu in neo-Byzantime style of light and dark natural stone. A gilded Madonna crowns the 46m/151ft high belfry.The whole of the interior of the church is clad in white and dark marble. In the crypt can be seen many votive tablets and model aircraft given by aviators.
Map of Marseilles Attractions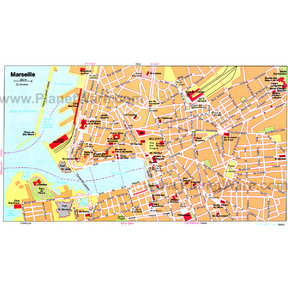 Marseilles Map
More Marseilles Attractions
Popular Destinations Nearby