Swiss National Museum Map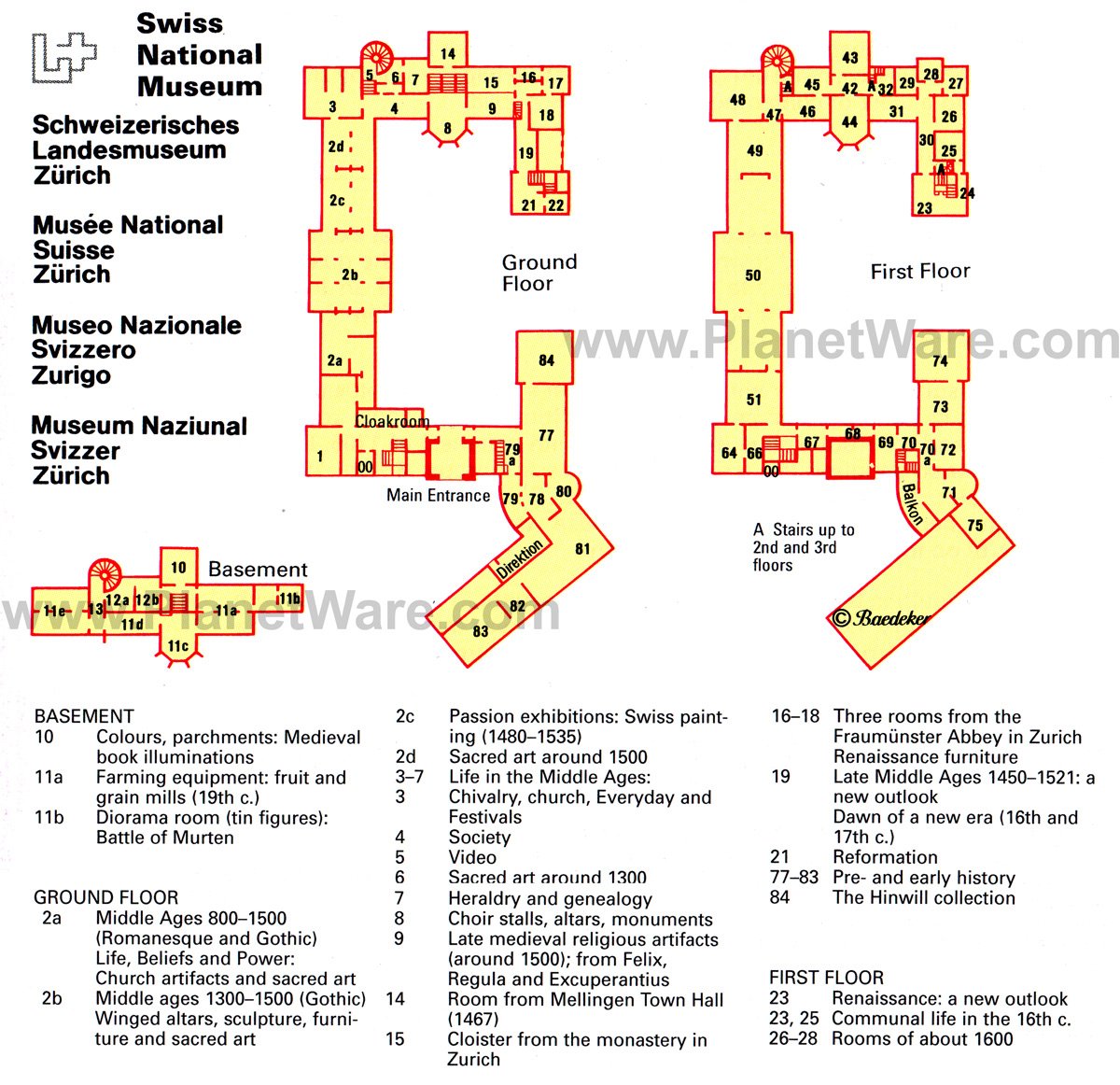 Some attractions within Map of Swiss National Museum Map:
BASEMENT
(10) Special exhibitions
(11-13) Old trades and crafts
(11b) Coachbuilding and blacksmithing (19th C.)
(11c) Part of a Zurich armory (16th-17th C.)
(11d) Casting of non-ferrous metals
(11e) Bells (12th-18th C.); tower clocks (16th-17th C.)
(12a) Comb-maker's workshop (19th C.)
(12b) Cooper's workshop (19th-20th C.)
(13) Shoemaker's workshop (19th C.)
GROUND FLOOR
(1a-3) Carolingian and Ottonian art (9th-10th C.)
(4-9) Heraldry and genealogy; Zurich Arms Roll, etc.
(14) Council chamber from Mellingen (1467)
(15) Cloister (c. 1240)
(16-18) Rooms from Fraumunster abbey, Zurich (c. 1500)
(19, 21) Transition from Gothic to Renaissance
(22) Pharmacy (18th C.)
(77-80) Temporary exhibitions of pre-history and early history
(81) Objects of the Bronze Age (1800-800 B.C.)
(82-83) Neolithic material (4th millennium to C. 1800 B.C.); bust of Ferdinard Keller
FIRST FLOOR
(23) Stained glass, in particular from Tänikon convent (1557-59)
(24) Small room from Valais (15th C.)
(25) Drawings, in particular sketches for stained glass (16th C.)
(26) Room from Casa Pestalozzi, Chiavenna (1585)
(27) Room from Rosenburg, Stans (1602)
(28) "Winter room" (bedroom) from Schloss Wiggen, Rorschach (1582); coats of arms
(29) Room from Alter Seidenhof, Zurich (1620)
(30) Stained-glass panels (16th C.)
(31) Painting of the alliance between Louis XIV and the Confederates in 1663
(32) Zurich interior; Zurich stove
(42) Door surround from Zurich (17th C.)
(43) "Summer room" from the Lochmann-Haus, Zurich (C. 1660)
(44) Upper Chapel: special exhibitions
(45) Secular silverware of the late medieval period
(46) Stained glass from the former Cistercian nunnery of Rathausen
(47) Special exhibitions of graphic art
(48) Winterthur china (17th C.) and stoves; portraits and stained-glass panels
(49) Items of historical interest, canton of Zurich (17th C.)
(50) Armory: development of arms and armor in Switzerland from 800 to 1800
(51) Uniforma of the federal arms (1815-60)
(64) The Swiss in foreign service (1799-1859)
(66) Late 14th C. helmet (the "Hundsgugel"); Swiss Guards (17th-19th C.)
(67) The federal army since 1898
(68) Model of the Second Battle of Polotsk
(69-70a) Military material of the Roman period (1st-4th C. A.D.)
(71) Weapons and implements of the Late Iron Age (La Tène, 5th-1st C. B.C.)
(72) Domestic objects of the Roman period
(73) Cult object of the Roman period (reconstructions of domestic altars)
(74) Models of early medieval refuge forts; jewelry, etc.
(75) Coin collection
Use this map on your web site - copy and paste the code below.
More Zurich Maps
| | | | | |
| --- | --- | --- | --- | --- |
| Zurich | International Airport | Schauspielhaus | Winterthur | |