Southern Districts, Madrid
Several attractions of note are found in these Madrid southern districts.
Related Attractions
Toledo Bridge
The Puente de Toledo is one of the finest monuments from the reign of the first Bourbon king, Philip V. The bridge, which was built by the architect Pedro de Ribera between 1718 and 1732, replaced the old dilapidated Puente Toledano. The bridge spans the Manzanare with nine arches and has alternative dual-carriageway roads crossing the river alongside it in either direction. The buttresses supporting the main piers of the bridge are topped by semi-circular "balconies". Halfway along the parapet are two small chapels, one on either side, which enclose statues of the city's twin saints, San Isidro and his wife, María de la Cabeza (1735; Juan Antonio Ron). The bridge offers a view across to the north to the Estadio Vicente Calderón and the Puerta de Toledo, further in to the city center.
Segovia Bridge
The Puente de Segovia is the oldest bridge over the Manzanares in Madrid.Philip II commissioned his favorite architect, Juan de Herrera, to build this bridge in place of the Puente Segoviano, and it was opened to traffic in 1584. It now links the city center with the outer districts to the SW.
Panteón de Hombres Ilustres
Memorials (19th and 20th C.) of Sagsta, Eduardo Dato, Cánovas de Castillo, Rios Rosas, etc.
Railway Museum
The museum displays the largest collection of historic locomotives and travellers carriages in Europe. It is housed in the Las Delicias Station.
Map of Madrid Attractions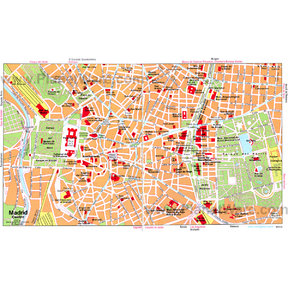 Madrid Map