San Andrés, Madrid
The Church of San Andrés, which forms an architectural unity with the Capilla del Obispo and the Capilla de San Isidro, is situated in a picturesque area of the city, looking on to the Plaza de San Andrés and the Plaza de la Paja. It was severely damaged by a fire in 1936 during the Civil War. As long ago as the Middle Ages there was a church on this spot containing the tombs of Isidro and his wife María de la Cabeza, who are venerated as patron saints of Madrid. After the canonization of Isidro in 1622 the church was completely rebuilt and then between 1657 and 1669 the Capilla de San Isidro was added on to the southern end, following plans by Pedro de la Torre and built under the direction of José de Villareal. Little of the costly furnishings of the chapel, some of which were the work of Manuel Pereira, or the church itself, survived the fire during the Civil War.
Important Information:
Transit:
Metro: La Latina; Bus: 3, 31, 50, 60, 65.
San Andres Highlight
Bishop's Chapel
Built in 1520-35 directly into the wall on the north side of San Andrés lies the Capilla del Obispo, which can be entered from the Plaza de la Paja. It is the only surviving architectural example of the mature Isabelline Gothic style in Madrid. Notable features are the Renaissance doors (from the workshop of Francisco Giralte, a pupil of Berruguete) and the inner wooden doors, which are ascribed to Francisco de Villapandó or Cristóbal de Robles. The chapel itself was built to house the shrine of San Isidro, which was kept there from 1518 to 1657, when it was transferred to the Church of San Isidro el Real.The High Altar is a masterpiece of Plateresque style (the Late Gothic of Castile) by Francisco Giralte, a native of Palencia, who was buried here in 1576.To the right and left of the altar are the tombs of Francisco de Vargas (d. 1524) and his wife Inés de Carvajal (d. 1518; by Giralte). Here, too, is the tomb of Bishop Gutiérrez de Carvajal y Vargas, from whom the chapel takes its name.
Map of Madrid Attractions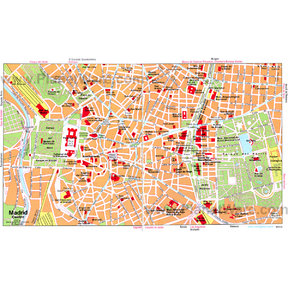 Madrid Map